Few of us really know what we are capable of achieving.
I've never been faced with anything this challenging before and I'd be deceiving you and myself if I told you I'm 100% confident I'm going to defeat it. I'm praying, meditating, practicing and doing whatever is in my power to do so, yet I also know that there is a power greater than me that has infinitely more Power to deliver me. I'm counting on my belief system, support group, and discipline preparation to help provide the nurturing platform to transform myself back to health. I'm confident with God's help I will be healthy again.
The news I got a week ago that the cancer cells were far from being in remission put the hospital into another series of chemotherapy treatments which I finished on Monday. It reminded me of the importance of some of the basic principles I was taught as a designated senior E-Myth Consultant. "Documentation is an affirmation of order." -Michael Gerber, E-Myth Revisited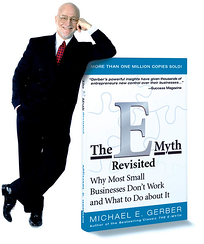 What if the original chemotherapy treatment had been the only option? I'm very aware of systems, checklist and documented procedures, and I can tell you as good as the nursing staff is here, there are a few times I've caught them failing to follow what I know is the right process.
This is a life and death situation for me. It's absolutely critical that a hospital have process documented and options available to provide relief for their patients.
What's your situation? How many systems have you identified in your business that are absolutely critical to your foundational business? Which systems differentiate you from your competitors? How well do you have them documented, monitored and quantified? Are they keeping up or falling behind your competition? Your systems should be at least as benchmarked as the sales system I described in Sales Pipeline – Why Your Sales People Forecast Too High.
If you have not done this, then you have absolutely nothing proprietary about your business. You are at risk of losing your business competitive edge. In fact I'd guess you don't have a competitive edge at all, you're simply commoditized.
If you're not documenting and prioritizing the 7-9 systems in your business that give your business a significant competitive edge you are absolutely in danger of going out of business. If your people are not passionately discovering, documenting and innovating new ways to improve your competitive edge you're foolish.
How can you have a business without the urgency to be the best at what you do?
Imagine for a minute I had no more options. My cancer treatment had failed and there wasn't another system for chemo treatment. Sorry Doug, you're out of luck. This is the best we could do for you.
Identify the 7-9 absolute critical work process flow charts in your business. Make sure they are foolproof and give you a competitive edge. Make sure you have benchmarks to quantify and monitor your customer's progress, delivery and satisfaction. Ensure your people are passionate about giving you the edge you need.
I'd like to leave you with two additional quotes from Michael Gerber about the importance of passion and orchestration. I hope it will remind you of the critical value of determining your fourth Strategic Discipline – Work Process Flow Charts.
"The need for Orchestration is based on the absolutely quantifiable certainty that people will do only one thing predictably - be unpredictable." -Michael Gerber, E-Myth Revisited
"Because every founder of every great Business Format Franchise company, whether it is franchised or not, knows on thing to be true; if you haven't orchestrated it, you don't own it! And if you don't own it you can't depend on it." -Michael Gerber, E-Myth Revisited
Acceptance is an extremely valuable emotional instrument. In our daily and weekly huddles we ask team members to reveal good news of a business and personal nature. Why is providing personal news so important to building a team atmosphere? We'll explore that in my next blog.