In Four Decisions You Must Get Right to Achieve Growth I promised I'd provide you with a Personal Story about applying the One Thing principals. For a company example of One Thing, read this Blog from the Dream Manager. This story is about three years ago so as to provide some protection for my son Joshua. The point of sharing this is simple. Placing your primary focus on one thing, either for yourself or your company gets results. It's extending the idea that less is more.
I've been applying some of the Rockefeller Habits Principles with my family. My son's and I sit down every 3 months to set goals for the quarter. My oldest son is in his first year in cross country and also just started basketball again. When I announced just before the start of October that it was time to do our 90 day goals for the quarter, my oldest didn't waste any time getting me his.
He had the usual numbers for getting good grades, scoring, rebounding, and for assists, and then one that I could tell was particularly important to him. Since running cross country this year he's had one challenge that he's not been able to overcome. Joshua is extremely competitive and one of the boys on the team, Chase, has always beaten him in every race, with the exception of a time trial run at the beginning of the year when they finished in a dead heat. Josh told me that his one thing this quarter was going to be to beat Chase in a race.
That would be no small achievement. Chase had been improving steadily and had actually increased the gap in their recent races finishing as much as 20 seconds ahead of my son in a 2 mile race.
The first race after he set his goal came the next week. It was a shorter race with fewer runners, and while Josh got off to a good start Chase immediately moved into the lead, led the whole race with Josh finishing second. After the race he was happy about his finish, but questioned whether he could ever beat Chase, "He's so fast Dad!" I reminded him of how he could beat Chase in shorter runs when they practiced and how he'd stayed with him in the time trials and if he could just stay close he had the speed to pour it on at the end and beat him.
One of the last races of the year before state was the all school meet where all the 8th grade teams in the city competed. It was held at a park [Noel Ridge Park] near our home and it was the scene of one of Josh's poorer performances where he'd got stuck in the wash at the beginning of the race and ended up finishing 7th. He told his mother this was going to be his redo, a chance for redemption.
The race started and Josh immediately started in the lead, staying out ahead for the first quarter to half mile. About that time, one of the best runners for a competitive school who had finished first several times against our team took the lead, shortly after Chase passed Josh as well. My wife and I were together as this unfolded and she looked at me disappointedly saying, "I guess we'll have to settle for third or fourth again?" She then looked at me and said what do you feel, would that be okay? I said, "no, I think he will still when this thing!" The rest of the race these two runners stayed ahead with my son Josh about 5-7 meters back. It was amazing to watch because these three runners were setting an amazing pace literally 200 yards or more ahead of the rest of the runners. As they closed to the finish line a sharp curve with a downhill slope marked the final 100 -150 yards to victory. Just about 20 yards from the curve, my son kicked it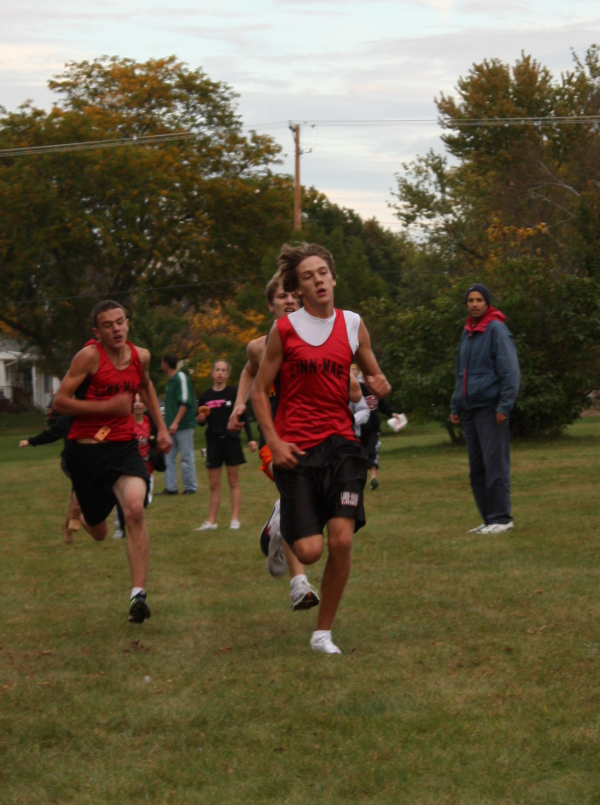 in; he rounded the curve wide and passed the other two runners. They seemed surprised to see him kicking it in and running so fast. It took a few seconds for each to respond and by that time my son was 10-15 yards ahead. Chase seemed to have more energy left and he quickly passed the previous leader and made up ground on my son. Just before the finish line he almost caught Josh; however Josh managed to stave him off. Everyone in the crowd watching was cheering and excited by the effort and closeness of the race. My wife was crying, I was close to tears and everyone was congratulating my son and us about the determination he had shown.
My son chose one thing as his top priority for the quarter, and in the short span of less than 30 days from setting that goal he achieved it.
What's your one thing? Even if you don't fully believe you can do it, commit to it, be determined, put all your focus on it, and you too can achieve what is most important to you, you just need to determine what it is.