Are you ready to get 2012 off to a roaring start? Would you like to get your team more inspired this year? Mike Schulte, Fleck Sales, earlier this year shared a video on what inspires your team. People don't buy what you do; they buy why you do it. It's the soft spot in your business that is frequently ignored or not valued as critically as is required. This subjective aspect of your business is included as Core Values, Core Purpose on your One Page Strategic Plan. They are often overlooked. Jim Collins in Built to Last, and Good to Great provided supportive proof that these elements are critical to business success. This video Simon Sinek: How great leaders inspire action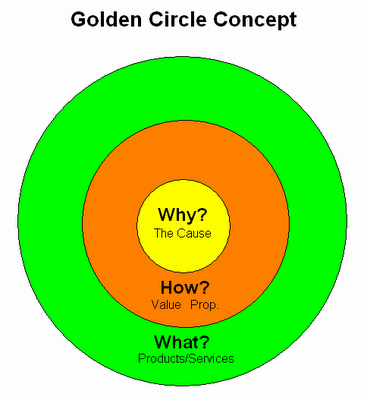 offers insight into why you need the "WHY" in your business.
When our people don't perform to the levels we expect it can be traced to two specific areas of absence. Expectations aren't clear, and they're not inspired by the company's purpose and values. Setting expectations is the subject of another blog this month. Not connecting the intention the company has for providing its service or product should be addressed even before the hiring selection is made. In selecting the person you should determine whether they are aligned with your core values and purpose.
Each quarter we ask our clients to review their people by completing a simple performance matrix. It's not intended to be a complete performance review, however it provides at a very high level a quick appraisal on whether you have the right people on the bus. The matrix has two axes. One measures performance the other core values. Grading the people you manage on this matrix helps determines which people are your "A" players, which need training, who are on the proper path, and who need to be reassigned or possibly released to find a position and company they are more aligned with.
The title of this blog suggests you can inspire your team. That can be an erroneous belief. If you need to inspire them, I believe you may have chosen the wrong people in the first place. Having the right people on the bus suggests to me that they arrive inspired! They come to work each morning ready to work, motivated by the vision and purpose your company stands for. The question might be whether or not you've chosen something that inspires them in the first place. Does your business have core values and purpose that are identified and communicated, starting with your recruitment process and extending into daily practices that reinforce these at the tactical level of your business?
If not then inspiration is something you and your company need to identify and remain committed to in order to achieve the results these tools are intended to provide.
Inspiring your team is the responsibility of the leader. If your team is not inspired than you truly have the wrong people on the bus and quite possibly you've failed to properly get your house in order by identifying your core values and purpose.