In 2012: Planning or Strategy we discussed the distinction between planning and strategy. While many companies struggle to execute their plans, the reality is most companies fail not due to execution, rather due to poor decisions.
Annual planning is a critical time for strategy development.
Are you using the One Page Strategic Plan as the fundamental tool for growing your business? Look at it now.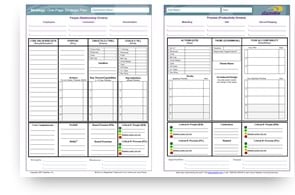 Can you see how the left side deals with strategy and the right side the execution? The One Page Strategic Plan is meant to focus on both strategy and execution. Strategy elements consist of Core Values Purpose, Core Competencies, SWOT, Brand Promise, Brand Promise KPI's, X Factor, BHAG, 3-5 Year Plan, 3-5 Year Key Thrusts and Capabilities. From the section on Annual Plan over to the right, these entries are focused on execution.
When you schedule time to work on annual planning make sure you invest at least 25 to 50% of your time reviewing your strategy elements. Do you have these critical strategy elements all completed? If they are, are they still on target? Can they be modified or improved?
There are Four Decisions your business needs to get right in order to grow: People, Strategy, Execution, and Cash. How are you doing in these four areas? Reviewing these four decisions provides the proper perspective for determining your One Thing for the next year.
To determine your One Thing and make definite plans to achieve it, you need to review last year, the previous quarter and get the input of the important decision makers on your team. Examine your key initiatives for next year within the context of the four decisions.
People is about harmony in your culture, how do you and your people enjoy working together?
Strategy is about top line (revenue) growth
Execution is about getting things done efficiently and effectively so that you convert revenue to profit
Cash is about having "Oxygen" – that is, sufficient cash flow (or cash reserves) so that you have options (choices) and are not living month to month just to survive.
Arguments can be made that simply determining which of these four to focus on is a strategic decision. Yet without question growth is a requirement for any business. When you're green you grow, when you're ripe you rot.
Strategy is the driver of revenue growth. Are your revenues growing? Can you consistently predict that your revenues will increase 15-20% or more in the coming year? If not, then you absolutely need to make strategy a priority and invest the time on making sure the elements of strategy are in place for your business.
The best strategist have developed a depth to their strategy following the principles Verne outlines in Seven Strata of Strategy. If you are struggling with revenue growth, or you simply wish to improve your revenue, strategy is absolutely the place you need to put your emphasis on.
Annual Planning is often considered a methodical process examining last year's budget and setting slight increases for revenues and expenses. Usually considerations are made for any new plans for additional people, departments or initiatives. This is not planning, this is a budgeting process.
Make sure you invest time to work on the critical elements of strategy. Review whether or not your strategy is still on target due to competitive or changing market dynamics. An essential part of your annual planning process should include a review of your SWOT (strengths, weaknesses, opportunities and threats).
Don't go into 2012 without making a significant investment in strategic development. A critical part of developing Strategic Discipline is to make sure your meeting rhythms include annual planning with the right agenda. Your meetings should telescope and integrate with each other. In this way each meeting has meaning to build on each other. Does you annual planning process include sufficient time for strategy development? Do you need help conducting your annual meeting to include strategy development?