Do your recall Aesop's fable the race between the tortoise and the hare? Any part of you that rooted for the hare, or thought the hare's approach was sounder?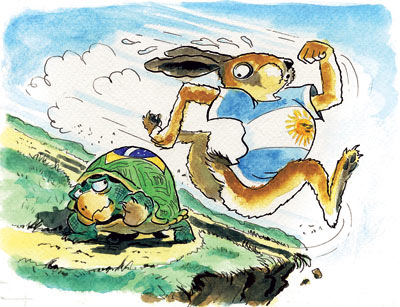 According to Tony Schwartz's new book Be Excellent at Anything [co-author of The Power of Full-Engagement], the hare's approach is best. The fable is wrong.
Intense bursts of energy, something referred to as pulsing, are superior to slow and steady work. The hare's balance of intense focus and effort with intermittent periods of recovery is the ideal way to train and work.
The book provides three fundamental principles for sustaining high performance, the third principle is the aforementioned balance of intense energy bursts with rhythmic recovery periods.
The first principle is that we cannot expect growth or improvement in any dimension of our lives without intentionally and regularly challenging our current capacity.
The second principle is that intense effort for short periods, followed by intentional rest and recovery is more efficient, more satisfying, and ultimately more productive than moderate continuous effort for longer periods of time.
We'll speak to these a bit more in my next blog. In the meantime consider taking the energy audit test that is provided on the energy project's website: http://www.theenergyproject.com/tools There's an energy audit especially for leaders as well as anyone else who is interested in discovering how they are managing their energy.