Last blog I discussed the importance of rituals and routines in developing accountability. A recent article in the New York Times caught my attention since it focused on successful companies and the importance of getting the right people to make a business great. People decisions are extremely important to making your business successful, and too often we fail to recognize how keeping the wrong people in our business holds us back. We don't see this as a piece of the accountability puzzle.
Jay Goltz's article "The Dirty Little Secret of Successful Companies" points to the decisions great companies make to correct their hiring mistakes. He notes that most companies are good at eliminating the people that are a six or below [on a scale of 0-10], however it's more difficult to part with the sixes. Companies that are great he believes are good at making these decisions, moving on and hiring more capable players in these spots.
A number of his points are great including his real test for how you would feel if one of your sixes indicated they were quitting. It agrees with Jim Collins' Good to Great Discipline #2 when it's time to make a people change.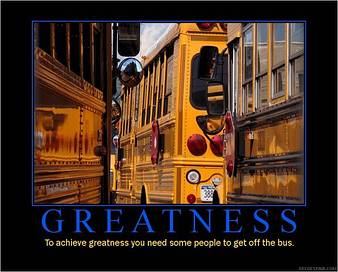 If you struggle with deciding when and why you need to make a people change when you have a six in your company consider this.
How would you feel if you had a six as your waiter, your housekeeper at the hotel you're staying at or more importantly if you knew the doctor or nurses who were performing surgery on you were sixes? How about the pilot who is flying the airplane that is carrying you and your family? The mechanic that worked on your brakes?
Getting the right people in your organization is a matter of accepting responsibility and being accountable to yourself to constantly be attentive to the strength of your people. It's the only way to ensure your company continues to grow toward the greatness it is capable of.
Companies that just want to be good don't do this type of continuous self-inspection. Do you want your business to be good or great? When did you decide to accept mediocrity? Is it time to make a change in your people practices?