"I'd get up at 4:30 AM, exercise, read something inspirational, and then have a healthy breakfast. That was my routine." My client was explaining why he decided to re-gage our coaching work. When we were working together this had been his faithful morning regiment, every day. For the past year or better he explained he'd not been following this routine and he found his business and personal focus suffering.
I'm not endorsing this man's routine. I am endorsing the discipline that it provides him with. My client hired me back to provide him with accountability. Someone who would check on him to make sure he was doing what he promised himself he would do. I like the definition of accountability that is here in the picture: Actions toward or involving others that reflect the integrity of the person you want to be.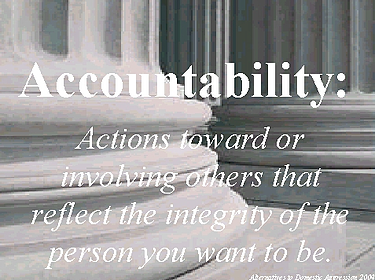 Perhaps you're someone who doesn't need another to be accountable.
Research shows that having someone to make you accountable makes it more likely you'll achieve your goal. According to American Society of Training and Development here are the percentages for achieving goals at various stages:
Hear an idea: 10%
Consciously decide to adopt it: 25%
Decide when you will do it: 40%
Plan how to do it: 50%
Commit to someone else that you will do it: 65%
Have a specific accountability appointment with the person committed to: 95%
In fact precision and specificity in establishing rituals virtually guarantees you will succeed. Tony Schwartz in the Power of Full Engagement and his new book Be Excellent at Anything provide many examples of the importance of building precision and specificity into your rituals. In one group of subjects who were asked to exercise for twenty minutes during the week, 29% complied. When a second group was given the same challenge including detailed information about the significant role exercise plays in reducing heart disease compliance rose to 39%. Yet when a third group was asked to commit to exercising at a specific time, on a specific day, at designated location compliance more than doubled to 91%.
Do you have something you want to accomplish? Is there something you've been longing to achieve for a long time and want with all your heart? Set a time, day and place to begin, get someone to help you make that accountability and you are almost assured to accomplish it.
So what do you want? What's going to be your excuse this time for not getting it done? You know how to avoid it, do something about it now.