What's the easiest way to initiate strategic discipline? Start with a daily huddle. Perhaps your people are accountable already. Perhaps they have metrics that they measure each day so they know how productive they are. Perhaps they never get stuck. And finally quite possibly you never have miscommunication. Even if you can answer yes to each of these you'll find the daily huddle brings a marked improvement in communication, accountability, and performance.
Check out Express Med, CEO, Alan Rudy's short two minute video on the Rockefeller Habits Checklist and how the daily huddles and weekly meeting rhythms moved him from working in the business 50-60 hours a week to less than ten hours focused on the operations of the business.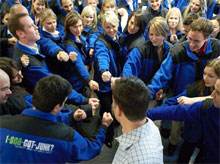 The daily huddle is a short less than 15 minute meeting that should be cascaded throughout the company. Each department, starting with the executive team down to individual departments can profit from this short stand up communication. Variations on what your structure should be vary. Our recommendation is to keep to three short items.
First is Priorities or victories. Each participant provides a short description of what their priorities are for the day. If something significant occurred in terms of a win for them they may also quickly offer this.
Next is Metrics. Each participant should have at least one, but not more than 2-3 numbers they use to monitor their own performance or the performance of their group. [Don't have metrics? See you are already gaining something from these meetings. Everyone should know whether they are performing or not. If you don't feel you can measure performance for an individual or group, read You Can't Measure What I Do – Measuring Performance or pick up Aubrey Daniels book Bringing out the Best in People, Part 3, chapter 11 The Effective Use of Measurement.
Finally are Stucks. Everyone who is working or accomplishing anything becomes stuck from time to time. In fact if someone is continually coming to the meeting and not offering a stuck it's a good indication they're not working. This is not a place to solve issues, rather to inform the group where issues are frustrating accomplishment. The stuck should be mentioned and then the next person in the group offers there's. If someone has an idea or can provide help, at most a mention like, "Doug, I can help you with that. Let's discuss after the huddle!" can be provided. No slowing down to resolve anything during the meeting so the huddle remains compact and never exceeds the time limit.
That's the daily huddle format. It should never exceed 15 minutes. I've done examples in workshops with as many as a dozen participants and been under 5-7 minutes.
Here are some additional suggestions:
Timing: Make the time irregular, every day at 8:08 AM or 4:46 PM. People are better at being on time when an unusual time rather than the top or bottom of the hour is used.
Who Attends: The more the merrier, Verne suggests. The Ritz Carlton has as many as 80 headquarter staff gather just outside their CEO's office.
Who Runs the Meeting: Someone who is structured and disciplined. That might not be the CEO or department head. The main job is to keep things running on time. If you need to, use a stopwatch to time everyone. Don't let any part of the agenda run away. "Take it off line," or "That's an interesting discussion, let's take it up at another time," Will get you back on to the agenda. Two suggestions, one, rotate the leader. By doing so you've trained someone to fill in when the dept. head is absent. The daily huddle can proceed without any interruptions. Two, by giving everyone an opportunity to lead you can keep the meeting on track. The leader one week will observe the rules because they want to keep it moving; if they don't paybacks can be rough. Giving everyone the opportunity to lead the meetings helps them recognize the value of following the rules.
Options: Several company's like the idea at the end of the meeting to have each attendee report something positive. It can be personal or professional but it should be short. When we say short we mean ten seconds short. It provides a real upbeat finish to the meeting no matter what. Another option is to review a core ideology. It's a good way to reinforce your values and beliefs. As an example the Ritz Carlton is famous for this treatment and focusing their staff attention on these. It's an excellent way to ensure these principles are constantly reinforced.
You're the judge on whether to add or omit these. Regardless make the Daily Huddle a part of your corporate culture and I assure you a remarkable difference in your businesses rhythm will develop.