If you look at these two logos and have seen them before there's a good possibility that you'll notice the embedded pictures within the image. In the case of the Fed Ex logo, until the Growth Summit in April I don't recall having recognized the arrow inside it. The Big Ten logo has an eleven buried inside it. My oldest son pointed this out to me over a year ago when we visited the University of Iowa field house for one of his basketball practices.
John Assaraf, author of The Answer,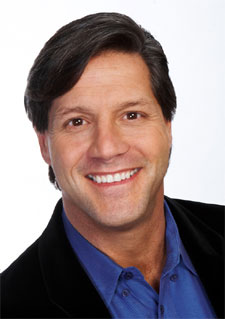 summed up his presentation at the Growth Summit with this insight. The tools for success are available to all of us. Just as these images are buried until we recognize them we won't discover how grow to our potential until we utilize the tools and resources we have to achieve with.
I am reminded of one tool while preparing Positioning Systems Core Story for my presentations last week: Clear Written Goals with plans to achieve them. A study* of MBA graduates at Harvard Business School done over 20 years ago provided the insight.
The study discovered that in the graduating class of 1979 Harvard Business School MBA students 84% had no goals, 13% had goals but had not committed them to paper, while 3% had written goals and plans to achieve them. Ten years later, in 1989 these MBA graduates were polled again. The 13% who had goals were earning on averagetwice as much as the 84% who had not made goals. The 3% who had goals on paper and committed to plans? This is staggering. This 3% was earning an amazing ten times the amount of the 97% combined.
Why don't we commit to goals and make plans to achieve them?
It's easier not to. Plus I've found that the one thing that makes entrepreneurs successful is the other side of the sword that holds them back. They want independence which means they feel restricted and inhibited by the discipline that is necessary to make a business work on a larger scale. Discipline, if they'd only recognize it, is what drives them to success, yet when they need this same level of discipline to their business they feel it is too restrictive. It's why most small businesses never grow beyond 10 people. The complexity and discipline it requires simply feels too confining and restrictive. Success is hard work. Once you get into a routine you discover discipline breeds success.
It's why what is often perceived as laziness is really exhaustion which is the subject of this week's Positioning Systems Newsletter #105.
Assaraf offered the use of vision boards, affirmations and positive thinking as elements we need to use correctly to achieve the success we desire. There wasn't a lot of hocus pocus or new breakthroughs in his presentation. In fact I found his presentation most assuredly down to earth, clarifying how success can be achieved through the principles of strategic discipline.
Many think of success as some miracle, or creative brilliance that occurs like a lightning bolt. Perhaps that's why so few succeed to the level of their potential. Success if more the realization of small blows each day chipping away at a large marble stone. It requires patience, discipline, faith and hope. Belief that our courage and commitment will eventually win out.
It's what Jim Collins in Good to Great called the flywheel effect or what Sam Walton quote testifies to, "Somehow over the years people have gotten the impression that Wal-Mart was...just this great idea that turned into an overnight Success. But...it was an outgrowth of everything we'd been doing since (1945)...And like most overnight successes, it was about twenty years in the make."
* Source: What They Don't Teach You At Harvard Business School: Notes From A Street-Smart Executive, and What They Still Don't Teach You At Harvard Business School, Mark H. McCormack