If you've been following this blog you know we've been covering the Four Decisions in growing your business that you must get right or risk leaving significant revenues, profits, and time on the table. These four decisions: People, Strategy, Execution, and Cash. We've been sharing the Four Decision Growth Tools we provide for our Gazelles and Positioning Systems Customers to help them to consistently grow their business.
Decisions Equal Success. Most companies fail due to poor decision-making. These Growth Tools will help you to make better decisions to grow your firm consistently and predictably each year.
Here's a quick recap of the Four Decisions Growth Tools series of Growth Tools we've covered by each Decision so far:
People
Rockefeller Habits 4 Decisions Tools - People (Leadership Team Health, Core Processes, FACe, and Performance Matrix)
Rockefeller Habits 4 Decisions Tools – People Continued (Topgrading, Managers – Team – Leaders, One-On-One Coaching, Love or Loathe Exercise, Grow Your Team Onboarding Coaching Development)
Strategy
Four Decision Growth Tools – Strategy Yields Top Line Revenue Growth (Strategy Statement, Core Purpose & Core Values)
Growth Tools – Strategy for Top Line Revenue Growth (Cont.) (Core Competencies, SWOT, SWT, Words You Own)
Four Decisions Strategy –7 Strata, WHO, Brand Promise, Profit Per X
Strategy Decisions - Actions to Live By, Catalytic Mechanism, X Factor
Strategy Decision Growth Tools - BHAG, 3-5 Year Plan, Innovation Window
Execution
Execution – Rockefeller Habits Checklist, Priorities, Metrics, Meeting Rhythms
Execution Growth Tools: Critical Number, Customer & Employee Feedback, NPS
Execution Growth Tools: eNPS, Annual Planning, and Quarterly Planning
Execution Growth Tools: Themes, Individual Plan
inal Execution Growth Tools – Dashboards and Success Criteria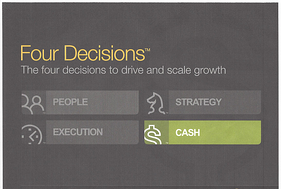 Cash
Cash Growth Tools – Labor Efficiency Ratio & Your Cash Flow
4 Decisions Tools – CASH – Cash Conversion Cycle, Four Forces of Cash Flo
We continue with Cash Decision Growth Tools. John Warrillow author of Built to Sell, recently released a new book titled, The Automatic Customer. It identifies how to build your business cash flow and value through the use of subscriptions. It's number five from the 7 factors for increasing the equity value of a company below. If you haven't considered this we recommend you pick up the book to learn how you can apply this to your business.
Fundability Optimization Checklist: In order for any high performance engine to function, it needs fuel. Similarly, a growth company must have adequate growth capital to succeed. The fuel of growth is working capital. Before going outside of the company for market capital (debt and equity), all companies should first maximize their internal, self-funding capability. Take a look at the Fundability Optimization Growth Tool checklist on the right.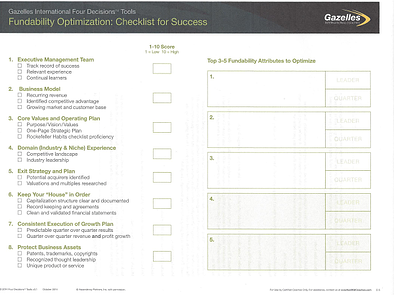 How would your company measure up on a scale of 1-10 and then what corresponding attributes do you need to prioritize in order to optimize your company's ability to secure additional financing?
Here are 4 key areas to focus on to help do so:
Measure and understand your Cash Flow Story
Identify your key Power of One (1%) variables and tune them in the order of impact/control
Optimize your Cash Conversion Cycle
Develop your monthly cash flow projections so you know where cash is each month and for the coming year (we recommend a 12-month rolling cash flow forecast)
Let's look at one example: SergeMD is a healthcare IT company that deals in support and software for the healthcare market. In their growth journey, as they neared $5M in revenue, they hired a new CFO/COO to expand their leadership team's experience and assist in raising growth capital (equity investment). As the new CFO/COO began preparations for their capital raise, he found that the company was weak in 2 important areas to investors/financers:
Corporate governance was weak: poorly documented investment agreements (stock certificates) and no board of directors (for CEO accountability) – increasing the risk to investors
2) Little to no financial controls: no budgeting process or standard reporting and few financial/accounting processes in place – decreasing the company's credibility in the eyes of potential investors
As a result, their growth was impeded. They had to first get their "house in order" before they could go to the investment/capital markets with a credible story to tell. This example points to the need for all growth companies to have solid financial reporting systems and for the CEO to have corporate governance accountable prior to successfully securing outside financing (debt or equity) at the lowest possible rate and highest probability.
7 factors for increasing the equity value of a company: Similar to fundability, yet with some unique twists, there are 7 factors to increase your company's value through time as you grow. In a fast-pace, busy growth company, it is too easy to focus on the day-to-day and even quarter-to-quarter and succeed with positive cash flow and profitability while forgetting – perhaps neglecting – the equity value of the business in the owner's and (potential) investor's eyes. Here are the 7 factors:
1. A consistent pattern and trend of profitable growth, quarter over quarter – predictable growth profitability is key!
2. Positioning your company in a growth industry, market or sector. In order to have future growth, regardless of how you are doing this quarter or year, there must be a market out in front of you that your products/services are focused on and that is growing.
3. Securing a threshold market share is important to be recognized as a leader or key participant in a market. However, having excessive market share can create risk to the company in the event that something was to happen adversely to the market. Being diversified and not overly dominant in a single market is important (with a few notable exceptions: e.g. Google dominates in some markets but is focused on being well diversified).
4. Similar to market share, a company must not be overly dependent upon a single customer or common (small) set of customers. If the customer (or customer group) were to have financial trouble or experience adversity, it would have a disproportional impact on your company.
5. Recurring revenue is one of the biggest valuation attributes and we will cover it in more detail shortly. Recurring revenue supports consistency and predictability and also allows for focus on decreasing delivery costs to customers of time – thus increasing profitability through time. Every company should be constantly asking "How can we build new or more recurring revenue streams?" And some recurring revenue business has higher value than others.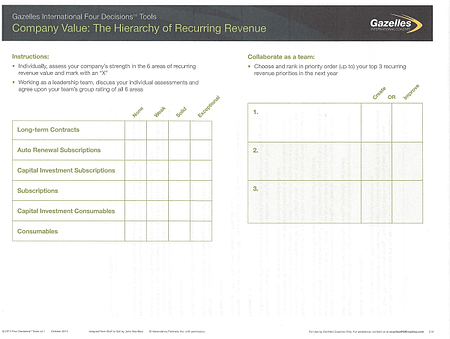 Take a good look at the Company Value: Hierarchy of Recurring Revenue on the left. Where does your company stack up in terms of recurring revenue?
A customer of mine made exceptional progress in the customer service area of his business. He was able to decrease his Average Speed of Answer to customers from over 60 minutes to less than ten. This provided extraordinary customer service, unheard of in his industry. As a result of this service an industry consultant recognized it fueling a 35% increase in new business through a trade show exhibit he helped them secure.
As their business coach I'd encouraged them to increase their monthly customer service contract rates. As often occurs, this owner undervalued his business service relationship to their customers. When he sold his business, the new owners recognizing the asset their customer service was, and immediately doubled the customer service agreement rates. Imagine what my customer could have received for his business had he done this earlier?
Don't overlook the value your customer service provides or the opportunity recurring revenue can bring your business!
6. The size of the company in revenue, employees and geographies can be important.
7. Last of all – perhaps of first importance – is the management team. Seasoned, experienced in the industry, and with a track record of success are all important. As goes the management team, so goes the rest of the company! (Rockefeller Habit #1 in its former description)
This concludes are look at the Gazelles Growth Tools. I plan to invest future blogs in specific customer examples and provide downloads of the Growth Tools in pdf files.
Do you use a coach for accountability? One of my accountability coaches is Ted Bonel, a Certified Gazelles coach, and former E-Myth Coach as am I. We met this Tuesday where he shared with me Good to Great author Jim Collins 12 Questions he'd revealed as keynote speaker at their Growth Summit in Australia. We'll review these next blog