The opportunity to discuss the nature of preparation and the importance it played in the recent Super Bowl preceded the plan to provide you with the remaining tools for People resources from Rockefeller Habits 4 Decisions. We'll provide the remainder of these People tools in next Monday's blog.
"I knew they were going to throw it," said Malcom Butler, "From preparation, I remembered the formation they were in and I knew they were doing a pick route."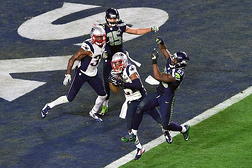 In case you don't know, Malcom Butler is the young man who made the game saving interception at the one yard line with 26 seconds left to preserve the 28-24 New England Patriots victory over the Seattle Seahawks on Sunday. Butler had only played 184 snaps from scrimmage all year. A non-drafted, free agent, who never received a signing bonus, and who made the team primarily because Bill Belichick, New England's Patriots coach liked how he prepared and did film study.
114 million people watched it, the most in Super Bowl and TV history. The play itself is remarkable; the play call by the Seattle Seahawks will be debated for decades.
The one thing beyond question is what made the play possible.
Preparation (If you still have reservations it was preparation read Pro Football Focus – Super Bowl XLIX – That Play)
Let me amuse you with some quotes on the value of preparation:
"Give me six hours to chop down a tree and I will spend the first four sharpening the axe."
― Abraham Lincoln
"The will to win is not nearly as important as the will to prepare to win."
- Bobby Knight, Basketball Head Coach, ESPN Analyst
"If your enemy is secure at all points, be prepared for him. If he is in superior strength, evade him. If your opponent is temperamental, seek to irritate him. Pretend to be weak, that he may grow arrogant. If he is taking his ease, give him no rest. If his forces are united, separate them. If sovereign and subject are in accord, put division between them. Attack him where he is unprepared, appear where you are not expected."
― Sun Tzu, The Art of War
"An ounce of prevention is worth a pound of cure." "By failing to prepare, you are preparing to fail."
― Benjamin Franklin
"Champions do not become champions when they win the event, but in the hours, weeks, months and years they spend preparing for it. The victorious performance itself is merely the demonstration of their championship character."
― Alan Armstrong
"It's not the will to win, but the will to prepare to win that makes the difference."
- Bear Bryant, Alabama College Football Hall of Fame Coach
Preparation is a vital part of Positioning Systems and Rockefeller Habits 4-3-2-1 formula for business success. Benchmarks in working with small and mid-size growth companies are 3-5 Year Plan, Annual Plan and Quarterly Plan. There's a host of other preparation tools which often get overlooked in building and growing your business: Core Values, Core Competencies, Core Purpose are just a few examples that Jim Collins and Jerry Porras ground breaking book Built to Last introduced as keys to building a business that lasts in which they described a group of 18 companies they defined as visionary.
Ben Franklin also stated, "If you fail to plan, you are planning to fail!"
It's time for a little self-inspection.
On a scale of 0-10 with zero being not at all and 10 being excellent, how would you rate your businesses planning? Indeed do you separate your planning from your strategic thinking? There's an important distinction as this blog Planning or Strategy? points out.
If you're familiar with the One Page Strategic Plan take a look at the illustration on the right.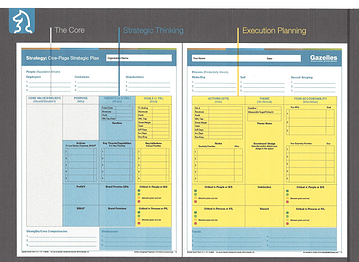 You'll notice the areas marked Core, Strategic Thinking, and Execution Planning. As the CEO in conjunction with your leadership team you must keep these horizons in focus at all times. In a two day Rockefeller Habits annual meeting, one day is generally dedicated to the Core (those elements not completed yet by our customers) as well as Strategic Thinking. The second day is dedicated to Execution and planning. It's critical to have the former focus leading your execution and planning.
The long term horizon dedicated to the Core and Strategic Thinking provides a framework for the planning and execution stage. Core Values and Core Purpose when first discovered are not a part of the culture and thus not part of the onboarding and orientation process. Once these are identified execution and planning should establish them as part of your recruiting and hiring process along with ensuring the staff knows these principles. Several of my customers have established a Core Value award presented at the annual Christmas party to reward and recognize one or several employees who best demonstrated living these Core Ideologies. There are many other ways to immerse these into your culture; however the purpose here is to differentiate the Core, Strategic Thinking Process from Execution and Planning.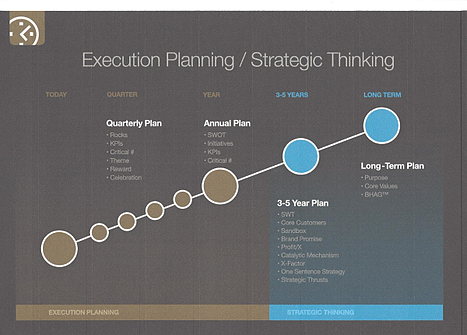 Based on this definition and taking a look at the picture on the left how does your business score on Strategic Planning versus Execution and Planning. Will you be prepared to make that key interception to push your business into the win column this year?
Coming Monday, the remaining People resources, followed by additional blogs on Strategy, Execution and Cash resources/tools we provide our customers to grow their business.