"I don't believe this business will ever reach its potential in revenue growth until it makes a true commitment to get sales acquisition right, and that means having the CEO no longer be the sales manager."
"This isn't about the CEO not being a good leader. It's about a CEO in any company not being capable to effectively command the Sales Management position and the CEO position at the same time. The positions require different skill sets, and unless the company is doing less than $1 Million in sales it's rare a CEO can fulfill both positions adequately. This company achieves excellence in so many other areas, particularly operations efficiency. Improving the profit margin from 50% to 54% this year alone is a testament to the ability of this team to achieve excellence in Execution. The Topgrading process has helped this company achieve 63% "A" players. This company is excellent at building great processes and achieving results. While we've made progress this year on the sales process and developing an effective lead generation system, the One Thing we have failed to achieve for several years now is developing the right people and right process to produce consistent, predictable result in revenue growth."
It was the second day of our Annual Planning and Strategy meeting last week in California. These were my words as I gave a passionate view on where this company was stuck. While I complimented them on their progress since we worked together since 2011, I cautioned, "Until and unless we truly commit to hiring the right sales manager and sales team we will continue to flounder and fail to achieve our true potential."
What occurred next surprised even me. One of the team members who have made significant progress in developing the company's lead generation process and metrics spoke up.
"I'm in agreement with Doug here. I feel we need to put someone in charge to lead sales. Someone who can approach it positively and not dwell on the details of what we're not doing, but rather focus on the positives of what we are doing right. I believe the person who I would like to see in the sales management position is Operations Manager (he then named him)."
The comment surprised everyone including the Operations Manager, who admitted that he was prepared to nominate this person instead for the position. After considerable further discussion the Operations Manager accepted the idea.
This discussion illustrates a specific point from Good to Great that I believe every company needs to be aware of.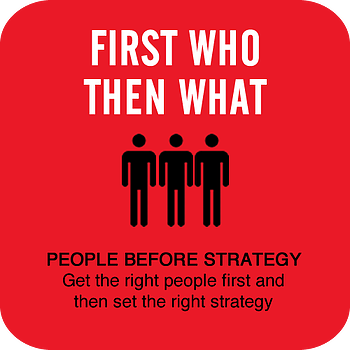 Many companies put their best people on their biggest problems. You might ask, isn't that what you suggested here?
It may be this company's biggest problem however it's also their biggest opportunity.
In Chapter 3 of Good to Great Jim Collins presents the case for First Who Then What. He shares how the Good to Great Companies sound like tough places to work. That if you didn't have what it takes you wouldn't last very long. He then discusses how to be rigorous not ruthless. There is a crucial distinction he notes.
Collins points out, "To be ruthless means hacking and cutting, especially in difficult times, or wantonly firing people without any thoughtful consideration. To be rigorous means consistently applying exacting standards at all times and at all levels, especially in upper management. To be rigorous, not ruthless, means that the best people need not worry about their positions and can concentrate fully on their work."
Three principles for Being Rigorous Not Ruthless Collins offered are:
1) When in doubt, don't hire— keep looking.
2) When you know you need to make people change, act.
3) Put your best people on your biggest opportunities, not your biggest problems.
We'll explore each of these in future blogs. This blog let's look at #3.
Collins points to Phillip Morris' decision to appoint his number one executive, George Weissman off his primary domestic business and put him in charge of international. Despite generating less than 1% of their revenues from overseas sales, Joe Cullman of Phillip Morris identified International markets as his single biggest opportunity. When Cullman perplexed over the best strategy for developing international operations, he came up with a brilliant answer. The answer wasn't "what" rather it was "who."
One of Weissman's colleagues was quoted, "When Joe put George in charge of international, a lot of people wondered what George had done wrong." Weissman himself offered, "I didn't know whether I was being thrown sideways, downstairs or out the window. Here I was running 99% of the company and the next day I'd be running less than 1%."
Forbes magazine recognized the move 20 years later as genius. Weissman built international into the largest and fastest-growing part of the company. Marlboro, Phillip Morris' flagship brand became the best-selling cigarette in the world three years before it became the number one brand in the U.S.
Good to Great points out that Phillip Morris illustrated a common trait among Good to Great companies. Put your best people on your biggest opportunities, not your biggest problems. Comparison companies had a propensity for doing just the opposite. Managing your problems can only make you good. Building opportunities is the only way to become great!
Read the third chapter of Good to Great, "First Who Then What" for more examples.
This Operations Manager demonstrated an achievement pattern and successful track record unprecedented for his company. Is he the right fit to move into sales management? He's already been serving as an expert on sales calls, and based on his fast learning capability, knowledge of the technical and operations level of the company my sense is he will do very well and elevate the performance in this area.
The company plans to scrutinize this choice just as they would any other promotion or hiring decision. This includes requiring him to take an Objective Management Group sales management assessment to not only discover if he can do the job but where his strengths and weaknesses are. This will ensure if he is recommended he will have clarity on what he needs to develop.
Are you putting your best people on your biggest opportunities? Or are you putting them on your biggest problems?
Is it time to assess your opportunities with a "who" rather than a "what?"
What does your business do to maintain or create innovations? What's your system for developing a consistent group of innovations for your business?
This customer's Core Purpose is "Pioneering Prevention." They've developed an innovative test to ensure flooring for concrete floors meets exacting standards to prevent moisture failures which can cripple any retail or business environment. They've failed to innovate on a consistent basis despite their habit of being process and system oriented. Truth be known the majority of companies have no system for innovating consistently.
We'll explore the Innovation Window and the components of developing a system for innovation in your company next blog