You are probably not old enough to remember the way back machine from the cartoon series PEABODY'S IMPROBABLE HISTORY,
(it was a series that aired within the Rocky and Bullwinkle cartoon series on TV) however I am betting you can remember when you first started your career.
How have you changed since you started?
Liz Wiseman's presentation and new book, Rookie Smarts suggests Rookies have an advantage.
Rookies have a critical skills many of us lose as we move through our career. Rookies learn at a much faster rate than others. There's a business advantage to being ignorant. It can often produce top performance.
Remember when you were a rookie? Did you get out of your comfort zone more often? You had to. There wasn't any choice. Almost everything you did took you out of your comfort zone because you were learning.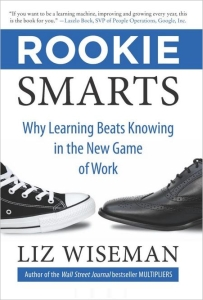 Wiseman offered these as reasons rookies often perform better:
They Accept Challenges (often they don't know any better)
Take Risks (They simply don't know the risks)
Manage Risks (They take small steps, they're risk mitigators)
Have a Sense of Urgency (They move faster. Why? If they don't they starve!)
Ask Questions
Not Afraid of Politics
Passion
Wiseman pointed to research that shows experience often builds blind spots. How many of us have been guilty of hubris? Bill Gates stated, "Success is a lousy teacher. It seduces smart people into thinking they can't lose."
Many of us stop thinking once we get knowledge. We stop seeing new data, and in many cases due to our scar tissue, we refuse to go places where we've had bad past experiences.
Yet many of our biggest breakthroughs occurred when we were in desperation mode. We faced a make or break moment where you had the choice to go back or move forward.
Rookies are curious. They're more interested in what they don't know than what they do know. They ask naïve questions. They're often playful, humble and deliberate. Clinical psychologist, Henry Cloud notes, "Certainty is one of the weakest positions in life. Curiosity is one of the most powerful. Certainty prohibits learning, curiosity fuels change."
Let's look at several examples of people who have found this rookie edge.
Wiseman offered NFL Quarterback and certain Hall of Fame member Peyton Manning as an example of how learning to be a rookie has made him even better. Peyton Manning Had To Relearn How To Throw A Football In 2011, And He Says It Made Him Even Better provides background Manning's return to fundamentals after 4 neck surgeries nearly ended his career.
Wiseman offered the following story about Bob Hurley who started Hurley Sports: Bob Hurley was a young surfer and surfboard shaper when he started Hurley Sports. He knew how to work a Skil planer, but had little idea how to build a company. However, he claims that at every junction his rookie status was a blessing. He asked questions nobody else asked and worked with a deep belief that anything was possible.
Wiseman asked Bob how, after 30 years and much success, he maintains this rookie mindset. He said, "I sometimes have days where I feel stuck in a rut, tired, and lacking fresh perspective. ... But I remember something I learned on Huntington Beach from a surfer named Rabbit." Rabbit Bartholomew was the Australian world champion surfer in the 1970s and a living legend.
Bob had been surfing on the best waves with the elite surfers, when he lost his board and swam under the pier. He spotted Rabbit surfing in the inferior waves and said, "Rabbit, come surf with us. The waves are awesome." Rabbit said, "That's kind of you, mate, but I want to surf over here with the kids. This is where I get my energy." The response struck Bob.
Whenever Bob gets stuck and needs an injection of fresh thinking, he grabs his board and goes down to the beach to surf with the amateurs. They help him renew his energy and mindset. Wiseman notes, perpetual rookies like Hurley have mastered the ability to unlearn and relearn.
Check out How Rookies Stay Relevant to discover how rookies outperform veterans.
It mentions a favorite quote of legendary basketball coach John Wooden, "It's what you learn after you know it all that counts." Wooden started his first practice with his team every year by teaching his athletes how to put their socks on. It's sounds so fundamental, yet Wooden knew a player with a blister on his foot doesn't perform as well. He wanted to make sure his players didn't have more to worry about than their opponent in every game.
If you're interested to discover or re-ignite your Rookie Smarts, take the 5 minute quiz Rookie Smarts quiz.
My research for this blog lead me to another great article by Conor Neill: The Origin of Leaders #8: Multiplying Others by Helping them find Self-belief. He starts the article by sharing how John D. Rockefeller would sit in meetings and not say anything. When he did speak it was always a question. Michael Dell is known for acting similarly. Neil notes he teaches by asking questions. He shares this about Scaling up and Mastering the Rockefeller Habits author Verne Harnish "we are good at finding answers to questions, leaders find the right questions"
If you don't go to the article please consider these best questions from it:
The best Leadership Question: "What is the next right thing to do?"
The best Teaching Question: "What do you think? What other options do you see?"
The best Coaching Question: "You have achieved what you set out to accomplish. Imagine yourself there. What does it feel like?"
The best Friendship Question: "How are you?"
The best Parenting Question: "What was the best moment of your day?"
The best Sales Question: "(I understand that price is important.) What other criteria are important in making this decision?" (The implicit question: "What are you comparing this to?")
This blog completes the list of speakers from the Growth Summit. Please consider attending the next Growth Summit with your team in Orlando, May 11-16th. What's the key ingredient to building a Good to Great Business? We'll explore that next blog.