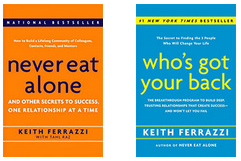 Keith Ferrazzi, author of Never Eat Alone and Who's Got Your Back received his first lesson on social networking when he was just 13. As a caddie at a local golf course, he earned the title of being the best first year caddie, and eventually caddied for Arnold Palmer, Coming from a poor family he might have been intimidated by the type of customer with memberships at the club. Each day he arrived 30 minutes early. Before anyone else was there Ferrazzi would check the pin placement of the holes and observe how the grass had been cut. All in an effort to give those he caddied for every advantage possible. He met a woman, Mrs. Poland, who possibly was the best golfer at the club. She quickly made Keith her caddie. Why?
Because he was prepared.
Eventually she struck up a conversation with personal questions. She asked him what he wanted to do. Ferrazzi responded, "I want to go to college." She responded by offering to have him meet her son. The very next day she had him caddy in a foursome with 3 local congressmen. They became close, Mrs. Poland inviting Keith to join her family on vacations. She proved instrumental in his acceptance and financial help at Harvard University.
Ferrazzi notes that the most important people to you won't want to spend time with you. They're too busy and want to be left alone. Why did Mrs. Poland want to spend time with Keith? Because he showed up 30 minutes early and helped her to golf better!
To meet these most important people who can help you succeed you need to build your levels of generosity. You need to craft a plan to meet them.
Ask yourself how can I serve them? Invest in generosity, empathy, compliments and celebrate their victories.
Why should you do this? Those people with more personal networks are 7% more productive!
People get upset when someone wins a promotion over them. They complain, "He likes him better, that's why he got the position!" Ferrazzi's response to this is, "No Shit!"
Ferrazzi noted people with Social Capital
Achieve better results more quickly
Are more likely to promoted early
Receive larger bonuses
Earn higher performance evaluations
The same holds true for managers who network and socialize better:
Reach goals more quickly
Are better project managers
More creative relationships
The number one factor for high performing business teams is Deep Social Bonds.
Why is social capital so important?
Consider that the number one Corrosive aspect of business is conflict avoidance.
High performing teams share several key characteristics:
High degree of candor
Peer to peer accountability
"Give a Damn Factor"
Have you worked in an environment where there's a lot of finger pointing and blaming. Ferrazzi notes that when you blame someone you abdicate responsibility. Is your management style such that you won't allow your people to fail? Imagine having someone like that who always has your back working with you? Would it help motivate you more?
He offered his own reflex to conflict avoidance, anger, as a learning lesson to our audience at the Growth Summit. Whenever a conflict would occur with his staff, he would avoid it by getting angry. Finally with the help of his team he dealt with it and his office performance improved dramatically.
He recommends 50% of any meeting be dedicated to focus on arguments and debates. Patrick Lencioni in Death by Meeting describes this as drama the stuff that any great movie requires to be worth watching. It perfectly fits with Rockefeller Habits recommended weekly meeting segment on Collective Intelligence.
Ferrazzi noted that conflict highlights the brilliance of a team – not consensus. People learn from each other when discussions include outspoken candor. Ferrazzi also agreed with the challenge CEO's can bring to any conflict discussion as discussed in Why You Should Not Facilitate Your Annual Meeting?
When the CEO hijacks a question it reduces not only the input from others but often the outcome from being discussed more and it's transparency. When the CEO speaks, others clam up, which often prevents the best decision from being made because all views fail to be discussed.
Ferrazzi offered a number of ideas on looking at the people in your business that can most influence your growth. Leaders he noted need to be porous to change. Change needs to be approached with veracity and empathy. The behavior in most companies is addictive. We aren't able to see them ourselves and so we continue to bump into them which prevent organizations from succeeding.
Multipliers Author Liz Wiseman, spoke to the Growth Summit suggesting that Peyton Manning's success, playing better than ever at age 38, is part of the insight that comes from Rookie Smarts: Why Learning Beats Knowing in the New Game of Work, her new book. We'll explore the advantages of thinking like a rookie can provide you and your company next blog.