A lawyer and politician from Illinois, Sampson strived to be the next Clinton. In his quest to win political office he failed repeatedly. At one point Sampson withdrew from the senate race while leading several opponents to help another candidate with less backing but very loyal supporters win a competing candidate wouldn't. As a lawyer he turned down lucrative cases with defendants he didn't believe were innocent. It was a classic case of giving without concern for self, in hopes of the greater good.
After revealing the many challenges that consistently defeated Sampson Give and Take identifies him as Abraham Lincoln.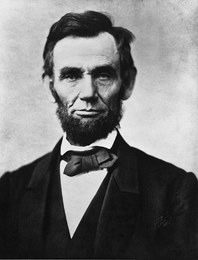 Here's a portion of their description
In the 1830s, Lincoln was striving to be the DeWitt Clinton of Illinois, referencing a U.S. senator and New York governor who spearheaded the construction of the Erie Canal. When Lincoln withdrew from his first Senate race to help Lyman Trumbull win the seat, they shared a commitment to abolishing slavery. From emancipating slaves, to sacrificing his own political opportunities for the cause, to refusing to defend clients who appeared to be guilty, Lincoln consistently acted for the greater good. When experts in history, political science, and psychology rated the presidents, they identified Lincoln as a clear giver. "Even if it was inconvenient, Lincoln went out of his way to help others," wrote two experts, demonstrating "obvious concern for the well-being of individual citizens." It is noteworthy that Lincoln is seen as one of the least self-centered, egotistical, boastful presidents ever. In independent ratings of presidential biographies, Lincoln scored in the top three—along with Washington and Fillmore—in giving credit to others and acting in the best interests of others. In the words of a military general who worked with Lincoln, "he seemed to possess more of the elements of greatness, combined with goodness, than any other." In the Oval Office, Lincoln was determined to put the good of the nation above his own ego. When he won the presidency in 1860, he invited the three candidates whom he defeated for the Republican nomination to become his secretary of state, secretary of the treasury, and attorney general. In Team of Rivals, the historian Doris Kearns Goodwin documents how unusual Lincoln's cabinet was. "Every member of the administration was better known, better educated, and more experienced in public life than Lincoln. Their presence in the cabinet might have threatened to eclipse the obscure prairie lawyer." In Lincoln's position, a taker might have preferred to protect his ego and power by inviting "yes men" to join him. A matcher might have offered appointments to allies who had supported him. Yet Lincoln invited his bitter competitors instead. "We needed the strongest men of the party in the Cabinet," Lincoln told an incredulous reporter. "I had no right to deprive the country of their services."
Contrast this to another famous American, Frank Lloyd Wright.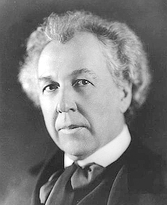 Wright success is described as being helped often by apprentices, yet rarely giving them any credit. He required his apprentices to put his name on any work they completed to insure all recognition would be allocated to him. At several points in his career he was abandoned by the architectural community and went years without work. The book cites these challenging intervals a result of his unwillingness to share the spotlight and recognize those who contributed to his success.
How good was Wright? In 1991, the American Institute of Architects recognized Wright as the greatest American architect of all time. He had an extraordinarily productive career, designing the famous Fallingwater house near Pittsburgh, the Guggenheim Museum, and more than a thousand other structures—roughly half of which were built.
The actual story of his success might be written far differently. From Give and Take: In his designs, Frank Lloyd Wright appeared to be a humanitarian. He introduced the concept of organic architecture, striving to foster harmony between people and the environments in which they lived. But in his interactions with other people, he operated like a taker. Experts believe that as an apprentice, Wright designed at least nine bootleg houses, violating the terms of his contract that prohibited independent work. To hide the illegal work, Wright reportedly persuaded one of his fellow draftsmen to sign off on several of the houses. At one point, Wright promised his son John a salary for working as an assistant on several projects. When John asked him to be paid, Wright sent him a bill itemizing the total amount of money that John had cost over the course of his life, from birth to the present.
Although Wright was prolific throughout the first quarter of the twentieth century, beginning in 1924, he took a nine-year nosedive. As of 1925, "Wright's career had dwindled to a few houses in Los Angeles," write sociologist Roger Friedland and architect Harold Zellman. After studying Wright's career, the psychologist Ed de St. Aubin concluded that the lowest Wright "ever sank architecturally occurred in the years between 1924 and 1933 when he completed only two projects." Over those nine years, Wright was about thirty-five times less productive than usual. During one two-year period, he didn't earn a single commission, and he was "floundering professionally," notes architecture critic Christopher Hawthorne. By 1932, "the world-famous Frank Lloyd Wright" was "all but unemployed," wrote biographer Brendan Gill. "His last major executed commission had been a house for his cousin" in 1929 and "he was continuously in debt," to the point of struggling "to find the wherewithal to buy groceries." What caused America's greatest architect to languish?
Frank Lloyd Wright's drought lasted until he gave up on independence and began to work interdependently again with talented collaborators. It wasn't his own idea: his wife Olgivanna convinced him to start a fellowship for apprentices to help him with his work. When apprentices joined him in 1932, his productivity soared, and he was soon working on the Fallingwater house, which would be seen by many as the greatest work of architecture in modern history. Wright ran his fellowship program for a quarter century, but even then, he struggled to appreciate how much he depended on apprentices. He refused to pay apprentices, requiring them to do cooking, cleaning, and fieldwork. Wright "was a great architect," explained his former apprentice Edgar Tafel, who worked on Fallingwater, "but he needed people like myself to make his designs work—although you couldn't tell him that."
Wright's story exposes the gap between our natural tendencies to attribute creative success to individuals and the collaborative reality that underpins much truly great work. We tend to privilege the lone genius who generates ideas that enthrall us, or change our world. According to research by a trio of Stanford psychologists, Americans see independence as a symbol of strength, viewing interdependence as a sign of weakness. This is particularly true of takers, who tend to see themselves as superior to and separate from others. If they depend too much on others, takers believe, they'll be vulnerable to being outdone.
This is a great reminder of the power of Collective Intelligence, which is a routine part of the weekly meeting rhythms. The innovative and creative power of collaboration trumps individual effort consistently.
What can you learn from Give and Take? We'll explore that in a future blog. One of the NFL's greatest coaches, Chuck Noll, died last week. His story and the discipline he brought to league doormat Pittsburgh Steelers offers insight into what it takes to build a winner in sports and business. An article by Rocky Bleier about Knoll offers insights and comparison to developing success in business. That's next blog.