Let me ask you a question: Are you the problem?
Aubrey Daniels in Bringing Out the Best in People notes: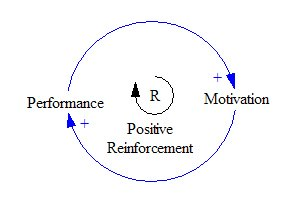 "Reinforcement multiplies as it goes through the chain of command. Those who are reinforced tend to reinforce more. If people at the top are getting reinforced, they are much more likely to reinforce those who work for them, and so on through the organization."
Let me restate the question: Are you as the leader providing enough positive reinforcement to your leadership team and your staff to allow for it to multiply as it moves through your organization?
What's the culture like in your company? Do you hear a lot of praise, recognition and positive comments about your people being bantered around? Are people easily and often recognized for their contributions?
If your business in pretty much a heads down, get your work done and get out of here environment maybe the problem is you. Maybe your lack of positive reinforcement and recognition is inhibiting the entire company. It wouldn't surprise me if turnover is a problem you consistently face.
If not, if you provide plenty of positive reinforcement and encouragement then where is the bottleneck?
Wherever it is, FIX IT! People, as we'll discuss next blog, are the first and most important ingredient in building a successful enterprise.
You probably didn't realize how critical your positive attitude is, and how much the frequency of noticing what others do right influences your business. Saying the right thing at precisely the right momentmotivates and encourages your team to continue doing what they are doing in a similar fashion. Management by walking around isn't an old idea that no longer has a place in business. The difference between leaders who get the most out of their people is when they notice their team and how frequently they do. Noticing any of your team doing the right thing, or simply doing the proper job, at the moment they do it, is the best time to reinforce. Reinforcement when behavior takes place means it will increase. Reinforce at the wrong time and you not only lose the power to influence and get more of what you wished to praise them for, you may get more of what you don't want. Observing your people where they work means the possibility of getting repeat performance increases exponentially. Read How the Best Managers and Leaders Deliver Positive Reinforcement.
The key to note here is that you as the leader have a great influence on not only your leadership team, but on their efforts to repeat positive reinforcement. You can multiply the amount of positive reinforcement and recognition that enlivens and encourages your team simply by increasing the frequency that you offer it.
Did you know this single effort could have such an impact?
As noted earlier people have the greatest influence on whether your business succeeds or not. Why do so many businesses stay small? Why do so many business have difficulty finding good people? We'll explore this in our next blog.