Let's continue to explore the Seven Strata of Strategy, Mastering the Rockefeller Habits author, Verne Harnish key strategy elements, discovered from mid-sized business owners after the last recession which moved the needle to increase revenue. For a copy of Verne Harnish's Fortune article on The Seven Strata of Strategy and the worksheet to identify yours send me an email with Seven Strata of Strategy in the title.
Today we look at Brand Promise.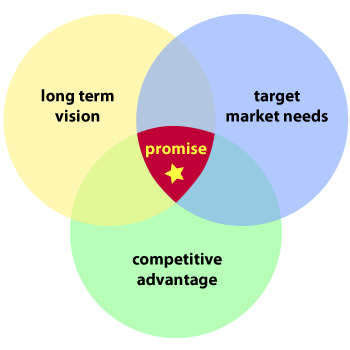 From Verne Harnish's Fortune Magazine article The 7 Strata of Strategy: Growing Your Business, here's his take on Brand Promise: Offer a unique brand promise. This is the experience you are promising your customers that differentiates you from the competition. BuildDirect.com's is simple: "Best price, best quality and product expertise," says Booth. It's normally a three-part promise, with one of the promises – "best price" in BuildDirect.com's case – that is most top-of-mind. And it's critical that you know how to measure daily whether you're keeping your promises. Booth's team has various KPIs (Kept Promise Indicators!) it monitors, like competitors' pricing, to make sure it is keeping its promises.
During my years in radio, one of the key strategy elements I felt I'd developed specific experience and knowledge on was helping a customer find their Unique Selling Proposition or their Positioning Statement. Years later, as I started my coaching development with Gazelles I discovered that while a USP or Positioning Statement is valuable, without the teeth offered by a Brand Promise you really offer your customers nothing.

Let's look at one example of a Brand Promise, Rackspace(RAX).
Rackspace.com manages hosting solutions for their clients, and when a customer's system goes down, it's never a good thing.
Rackspace's Brand Promise is to provide fanatical tech support to its clients. Its three fold Brand Promise is:
Get customer's hardware fixed or replaced in an hour or it's free. (Internally the fix is intended to be within 5-10 minutes)
Customers hate waiting on hold, so Rackspace answers the phone in 3 rings or less.
Finally they make sure that the customer can get their problem fixed within one phone transfer.
Imagine how grateful its clients are when they have to call in for tech support! What is usually a stressful, agonizing experience is made quick and painless because of Rackspace's Brand Promise. According to Wikinvest, Rackspace' revenue has grown around 60% each year for the last three years, and the company's customer base has grown 227% since 2005. The company attributes its rapid growth to its customer service. That's the power of figuring out what your customer really needs, and lowest price isn't always the deciding factor. Once you figure this out, you're one step closer to finding your Brand Promise.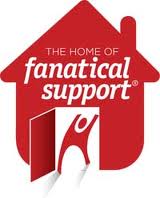 Again Rackspace's 3 Measureable Brand Promises are: 1) Hardware Fixed Or Replaced In An Hour Or It's Free, 2) Answer The Phone In Three Rings Or Less, 3) Customer Problem Fixed Within One Phone Transfer.
Interestingly enough the story of Rackspace growth and their focus on customer service was not part of their original intent. According to Switch (pages 199-202) authors, Chip and Dan Heath, in 1999 some bad behavior was abruptly made impossible. This allowed the company to make a major shift in the company's growth. Rackspace wasn't always customer-friendly. In fact founder Graham Weston said in the early days Rackspace had a "denial of service" business model. Rackspace viewed customer service interactions as costs to be minimized.
In the fall of 1999 all this came to a head with something known at Rackspace simply as "the call." A customer tried to call support but instead received voicemail. The message in effect said, "Feel free to leave a voice mail here, but we don't check it very often, so you're better-off sending us an email." The customer begrudgingly sent the email, but the team at Rackspace never responded. After several more irritating cycles trying to reach customer support, with a bit of legwork this customer tracked down Graham Weston himself at a real-estate office he owned. Weston was surprised and asked the customer to send him the email and look into it.
After reviewing the string of emails, Weston grew increasingly angry. "Something hit me about what the customer was asking for." Weston said. "it was something that we could do very easily that he couldn't do. So the question in my mind was, why are we not serving the customer happily?"
Weston realized he couldn't sustain a business based on dodging his customers. "We made a 180 degree turn." Weston hired David Bryce to head customer support. Bryce announced at his first meeting with the team that Rackspace would transform itself from a company that dreaded customer support, to a company that embraced it, and was passionate about support. Bryce posted an inspirational poster on the wall: RACKSPACE GIVES FANATICAL SUPPORT. That phrase stuck immediately and has since had a profound effect on the company's future.
Discovering what your customer needs and then determining which element of these needs your business does best is exactly what it takes to determine your Brand Promise.
Several critical elements can help you discover your Brand Promise. Once again discovering your Inside Advantage which I explained in Seven Strata of Strategy – Words You Own provides great insight into WHO your customer is and WHAT you offer that they need. Another helpful exercise is to identify, with the help of a Gazelles Coach, what are your customer's needs.
This step is important. Customers will want you to death, but if you identify what they need, prioritize these and then determine which of these priorities your business does best, you don't even have to choose the top need. Often times your competitors do a better job at solving customer's number one need, yet they do a poor job of letting customers know they are better than everyone at it.
If you discover one need you solve better than anyone else you can carve out market share simply by differentiating yourself with this need with your customers. That alone can catapult you into growth. Identifying what you do better, then measuring it to make sure you deliver your promise every time will provide an extraordinary competitive advantage in the market place.
Your customers won't be concerned that you're not solving their number one need; they'll automatically assume you do that if you've identified what you do best in your marketplace. Identifying what your best at and guaranteeing results through your Brand Promise is enough to provide critical market differentiation in a competitive market.
Has this provided enough to get you started on Brand Promise? The example of Rackspace is not only a Brand Promise, but a Brand Promise guarantee. And it's just the tip of the iceberg. We'll look at Brand Promise Guarantee next blog and how Jim Collins idea of a catalytic mechanism serves your business well in providing extraordinary customer service and helping you increase your pricing/margin even if you're in a commodity driven industry