A leading indicator forecasts or predicts the future.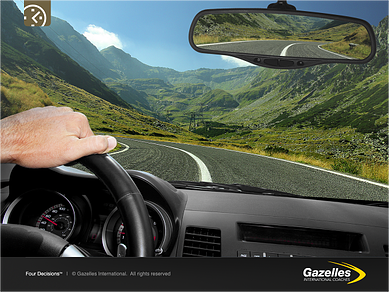 The two most important leadership skills is the ability to forecast where your team is going, and the ability to delegate.
At the Mastering the Rockefeller Habits Four Decisions Workshop, last Tuesday, we discussed and demonstrated what a leading indicator looks like. We addressed how meeting rhythms need to align in order to bring meaning to your organization, specifically delivering your priorities and the monitor of metrics intended to achieve your priorities.
The weekly meeting should follow a specific agenda, which includes a 10-15 minutes segment for customer and employee data.
What should be discussed in this segment? While it's suggested this segment be dedicated to recurring issues with customers and employees, it is not intended that these be the only issues discussed. Recent customer complaints, specific issues with employees and their behavior, systems that employees are complaining about, all are possibilities brought up in this segment.
When an issue appears, restrain yourself from solving the problem immediately. Instead, collect all the details. Determine the severity of the problem. Then make a determination if this needs the help of the leadership group collectively, or if it's an issue that should be solved within the department or by the supervisor. If it requires the leadership group's concentration, schedule if for Collective Intelligence later in that meeting.
Many issues that present themselves in this part of the meeting can kindle larger fires which when not addressed disrupt customer and employee satisfaction. This is why this segment of the meeting provides a leading indicator on what to expect in customer and employee relationships. A small issue with a customer can represent a larger undefined process/practice. The issue needs to be resolved. Then it may require documentation and delivery to your customer relationship team to head off further expanding or exacerbating these types of customer complaints.
The same is true for employee issues. A change in company policies, a new machine or process for operations can offer a whole new set of circumstances that were impossible to anticipate when changes were implemented. Recognizing the issues as quickly as possible can prevent unpredictable events from spreading or increasing the damage they could affect.
Weekly meetings are powerful tools for taking advantage of the number one capability of the human mind: pattern recognition. An issue may not seem demanding until several incidents of like pattern recur. This is exactly the type of information that should be delivered in the Customer & Employee Data segment of the weekly meeting. A first time occurrence may not require intense scrutiny or collective intelligence response. However the mere arrival of an issue may serve as a leading indicator of what to monitor.
The best leaders will embrace this segment of the meeting, realizing the powerful tool it can be for anticipating and preparing for the future.
Many companies do not engage in this type of collection and revelation of data, particularly with this soft side of the business: relationships (One of the two Drivers in the Rockefeller Habits 10 success elements). By not providing a place where these issues can be brought up regularly they are masking concerns and issues that will eventually need to be addressed or end up causing irreparable harm to the company and its growth.
Recently I was reminded of this in my personal journey to recovery from Acute Myeloid Leukemia (AML) and bone marrow transplant. Wednesday at my clinic appointment I was told I could eliminate my Prednisone dosage. Prednisone is one drug, a steroid that masks symptoms in Graft versus Host (GVH) disease. Since decreasing my dosage of Prednisone I've noticed that my hip has increasingly become more painful. Prior to discovery of my AML I'd been scheduled for a hip replacement in the summer of 2012. Because of my cancer diagnosis this had been postponed indefinitely. The prednisone had effectively obscured my arthritic pain in my left hip. Only as the medication was reduced have I become aware of this painful reminder that I still need a hip replacement.
What is masking or obscuring the information/data you need to make better decisions for your business? The Weekly meeting segment dedicated to customer and employee relations can be a powerful tool for collecting and revealing issues that need to be addressed. They can also be a leading indicator on where your business needs to focus its attention to prevent obstacles that can disrupt your business growth.