Last Wednesday, at the Cedar Rapids Scaling Up Workshop, seven leadership team members from Raining Rose filed in to the large Conference Room at Bankers Trust. They were there because they responded to an email that Bankers Trust had sent to their commercial accounts, inviting them to the event they sponsored.
Raining Rose is a perfect prospect for the Scaling Up Workshop. They were recently selected by The Initiative for Competitive Inner City (ICIC) and Fortune magazine for the 2015 Inner City 100, a list of the fastest-growing inner-city businesses in the United States. ICIC's Inner City 100 program recognizes successful inner-city businesses and their CEOs as role models for innovative business practices and job creation in America's urban communities.
Raining Rose ranks 43rd overall on this year's list, reporting 2014 revenues of $38.53 million and a five-year growth rate of 220 percent from 2010-2014. They are definitely a Gazelle!
Will Raining Rose become a Positioning Systems customer? Maybe not, yet for one day, Positioning Systems had the opportunity to share with 7 of their leadership team the resources, tools, stories and coaching expertise on how we help Gazelles customers grow, communicate, deliver more profit, cash, productivity, sales and A Players to our customers.
Bankers Trust sponsorship enabled Positioning Systems to reach a customer we may never have had access to.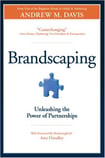 This, on a very simplified scale, is what Andrew Davis presented to the Dallas Growth Summit audience. Davis is the author of Brandscaping: Unleashing the Power of Partnerships.
Davis provided one example which, for me, brought back memories of playing basketball in high school and college. His story about how Chuck Taylor All Star Converse basketball shoes chose to partner with Guitar Center, a company you might not see as the best to partnership an opportunity with, to stage Get Out of The Garage promotion. Check out the YouTube video.
This unlikely partnership started because Converse noticed sales spiked when celebrities were captured on video or pictures wearing Chuck Taylors.
How could Converse increase these type of events, or, perhaps even create celebrity status? They already had 3.7 million subscribers in their email list. Your email list is your most under-leveraged marketing asset. Could Converse share a story with these subscribers as well as another company's email list that might have their next customer?
Converse & Guitar Center combined their subscriber bases to present 'Get Out of the Garage' - providing one band the opportunity to win a career-altering prize package including $25,000 cash, the chance to record a 3 song-EP with producer Dev Hynes of Blood Orange at the Converse Rubber Tracks Studio in Brooklyn, a performance slot at The Fader Fort in Austin, TX, thousands of dollars in gear, worldwide distribution from TuneCore and more. Content was the key – bands create the content!
The result turned a promotion into music and a story that propelled sales for Guitar Center and Converse.
Who has your next customer as their current customer? Who already owns your audience?
Andrews offered these ideas in his presentation for the Dallas Growth Summit audience:
Three Keys To Partnership Success:
Confidence to invest in the content of others and the belief that their audience, no matter how small, is valuable.

Humility to believe that your customers care about more than just your products and services.

Willingness to pool your resources and share your audience with other brands.
Three Ways to Uncover New Partnership Opportunities
Imagine your product or service is listed on Amazon's marketplace. Make a list of what other products, services and brands would appear in the "Customers Also Bought" section.

Leverage Google Trends, the most underutilized marketing and sales tool in the world. (Google.com/ trends). Look at the demand curve for your product or service category and look for who and what increases demand.

Build an Influence Pyramid. Who are the digital influencers creating content in your market? Who are the consumers they serve? Ask yourself what you could do to help those influencers be more successful?
Three ways to maintain and expand your current partnerships:
Call one existing partner each week and ask how you can help them sell more products or services?

Consume your partner's online content, interact with their audience and encourage interaction and engagement by sharing their best digital assets with your audience.

Remember, everyone has an audience, invite your staff to think about new long-term partnerships by looking for other products and services your existing customers embrace. Keep a list and reach out to one new potential partner each month.
Content builds relationships. Relationships build trust. Trust Drives Revenue.
Your next customer may come from an unfamiliar source or a minor content expert on the web, yet someone who can deliver your next customer. Such is the case with Tractor Supply Company. While a small niche, backyard chicken coups are a growing part of US market. Tractor Supply partnered with the Chicken Whisper and his audience of 20,000 subscribers. Suddenly Tractor Supply turned a small part of their business into a growth segment.
Davis feels it's possible to partner with your perceived competition. You'll need your imagination and creativity to exploit this. It's another reason why Collective Intelligence in Positioning Systems/Gazelles Strategic Discipline Weekly Meetings and the Learning, Planning, Solving portion of the monthly meetings can be so valuable. Use these opportunities to explore ideas like these.
How often are you speaking to your customers? A best practice we teach our customers is your leadership team needs to speak to a minimum of one customer a week. IBM has its top 200 managers talk to 5 customers and employees every week and review the information every Friday. How's your business doing in gathering quantitative and qualitative customer information? Our last Dallas Growth Summit speaker, Adele Revella, author of Buying Personas, states companies need to understand, how, when and why the buyer makes their purchasing decision. In the next blog, we'll explore her ideas on discovering insights into your buyer's decision-making.