Your business is growing. Your capacity and desire to manage the company is not only beyond your capacity it's also something you don't enjoy. You're the rainmaker for your business, and you love selling and the relationship aspect of the business. The details don't interest you. Better to leave these to your administration team.
How do you keep your business on a growth trajectory without having to spend time on the details and management aspect of the business?

A former customer, a Financial Planner and now a Gazelles coach, Scott Ford, Founder & CEO of Cornerstone Wealth Management Group and coauthor with Ron Carlson of The Sustainable Edge: 15 minutes a Week To a Richer Entrepreneurial Life, asked my help conduct the Topgrading Process for a COO for his business. Scott wanted to make sure he would hire the proper person to take care of the vital operating provisions of his business, to allow him to delegate customer service, administration functions, financial systems, and acquisitions so he could focus on delivering the "rain" to fuel continued expansion and growth.
When Scott and I met to discuss the process for hiring a COO he already had a candidate in mind, someone who had a great track record working with a large financial wealth advising firm in Australia where he managed up to 100 sales people. This candidate is already performing many of the management functions for Scott at his firm in Hagerstown, MD as his consultant. Scott felt comfortable with proceeding with the Topgrading Process with just this candidate, however upon further discussion agreed that this position was not only crucial to his firms continued growth, but that expanding the list of candidates when only shine the light on who the best person for the job is, and insure an A candidate was hired.
Two additional candidates quickly emerged, discovered and recommend by Verne Harnish (author of Mastering the Rockefeller Habits and Scaling Up) through his weekly newsletter. One of the candidates Scott had been in touch with already, and the other was easily reached through email and three phone screening interviews were scheduled.
Phone screening interviews are generally about 15 minutes in length and should only be made after each candidate has completed a Career History Form.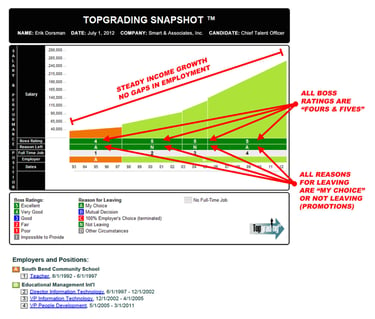 If you're a business that hires several employees a year the time saved by having Topgrading create a Snap Shot page where candidates can complete the Career History Form on line on a web page specifically set up for your company is significant. Rather than having to peruse through an endless number of resumes (58% of hiring managers said they've caught a lie on a resume) or Career History Forms, Snap Shot allows you to quickly discern the best candidates in about 5 minutes. Snap Shot provides a graph that visually depicts each candidates career growth, compensation, reasons for leaving position (own or induced) and their managers approval rating of their performance. This can shorten your time invested in discovering by 80% or more.
The phone screen interview should establish whether or not the individual's career goals, strengths, and weaknesses are a good match for the position you are seeking. It should also give you a very quick overview of what kind of person they are. Are they confident, secure and unafraid to admit their weaknesses, or do they cover up and hide what they are ineffective at? You can learn a great deal about someone in just 15-30 minutes if you ask the proper questions and don't throw softballs at the candidate. Never make it easy on the candidate to advance to the next level. You want A Players. A players are unafraid of challenges, are resourceful, and most important are intimately aware of what they are good at and what they prefer not to do because they don't enjoy it or are simply not good at it.
It was clear in this longer short interview (for the COO position we actually invested about 60 minutes with each of our three candidates) that each or our candidates were eminently qualified for this position.
After each short interview meeting we had a scorecard to evaluate immediately their interview sessions. The scoring was very close. We quickly narrowed the candidate field to two. One of the candidates, while well qualified, matched Scott's previously identified top candidate in mannerisms and qualifications. Since Scott had more experience with this candidate in house we decided to narrow the field to two.
The next step is the competency interviews. It's best that from this point onward all interviews are tandem interviews. Check out Topgrading's 12 Topgrading Hiring Steps for ideas on how and why tandem interviewing is so critical especially in hiring management level personnel. The ideas on tandem interviewing begin at step 8.
You should have completed a Job Summary Scorecard for the position you are hiring for. This will include a list of 6-9 A performance accountabilities and a listing of 15 –up to 50 competencies required for this specific position.
You should schedule 2-3 hours for the competency interviews with different tandem interview teams meeting with the candidates and choosing from the most important competencies this position demands for questions. Topgrading provides a list of competency questions to ask through their classes and resources on line. Choosing 4 – 6 competencies for your tandem teams to discover should be sufficient to get a good idea of how the candidate will perform.
That's our next step.
Should both candidates make it through this next stage we will move on to the CID's (Chronological In-Depth Structured Interview). It's a very detailed process starting with the candidate's education and then exploring each full time position candidates had. This includes about 16 questions for each position, their goals and self-appraisal, their appraisal of their manager and what their manager's appraisal of their performance would be. It's about 4 hours to complete.
If you believe that's too long, consider how many of your hires fail in six months or less. Topgrading when done correctly is 95% effective in getting A Players. Not all interviews should be 4 hours. Take a look again at 12 Topgrading Hiring Steps under step 7 for suggested interview times for the level of employee you plan to hire.
Scott has done the Topgrading process in the past with great success. He's committed to doing this right even though he felt he had the best candidate already in house.
Will look at the next step the CID's interview and how this candidate performs in future blogs.
Next blog there's a word IF it's in your vocabulary you should definitely eliminate it. I'll tell you what the word is, explain why, and it's connection to Star Wars next time.