It's this simple. If you can't scale leadership you can't grow your business.
On my flight, back from the ScaleUp Summit in San Antonio, I sat next to a woman who managed data centers for Farmers Insurance Group. Our discussion turned from the movie Whiplash (whom Farmers Insurance Group spokesperson J.K. Simmons won an Academy Award for Best Supporting Actor.) to how many centers and people she managed. I shared with her the Leadership Circle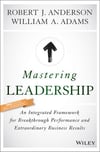 Profile, Bill Adams and Bob Anderson Authors of Mastering Leadership: An Integrated Framework For Breakthrough Performance And Extraordinary Business Results presented at the Summit.
To my surprise, she indicated she believed she'd already taken it.
Farmers Insurance Group employs nearly 21,000.
Adams and Anderson describe the Leadership Circle Profile as a breakthrough among 360 profiles. It connects a well-researched battery of competencies with the underlying and motivating habits of thought. It reveals the relationship between patterns of action and internal assumptions that drive behavior. Its intention is to go to the source of the behavior to gain greater leverage on change.
It doesn't require hours to interpret, the data reveals itself in seconds. It incorporates the information in a way to bring key issues to the surface instantly.
The Leadership Circle Profile puts you and your leaders in touch with what is working, what is not, and why! With this information easily accessible, it creates a foundation for ground breaking change to occur at a higher level and sustainable pace.
Two Primary Leadership Domains: Creative vs. Reactive
The Farmers Insurance Group Manager on the plane suggested she'd done well on the test. She indicated she'd scored as Creative on the assessment rather than Reactive. That's not surprising given the results Adams and Anderson have discovered.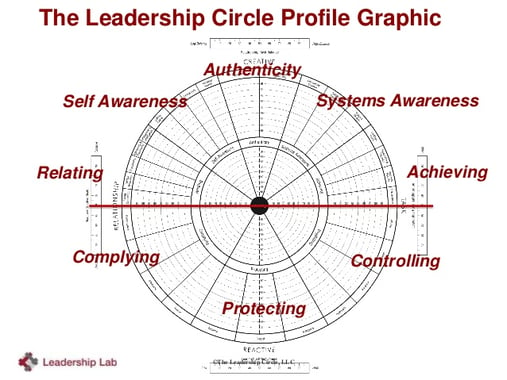 The Leadership Circle Profile scores participants on several scales. There are two circles in the profile. The outer circle displays the results for each of 29 dimensions measured by the LCP (Leadership Circle Profile). The inner circle dimensions summarize the outer circle dimensions into 8 summary scores.
Location dimensions within the circle illustrate the relationship between dimensions. Adjacent dimensions describe similar behavior patterns positively correlated. The opposite side of the circle are opposing behavior patterns.
The LCP measures two primary leadership domains – Creative Competencies and Reactive Tendencies.
This was perhaps the most revealing portion of their presentation: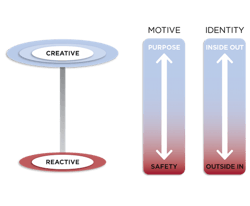 CREATIVE COMPETENCIES are well-researched competencies measuring how you achieve results, bring out the best in others, lead with vision enhance your own development, act with integrity and courage, and improve organizational systems.
REACTIVE TENDENCIES are the leadership styles emphasizing caution over creating results, self-protection over productive engagement, and aggression over building alignment. These self-limiting styles over emphasize the focus on gaining the approval of others, protecting yourself, and getting results through high control tactics.
It's not to difficult to determine which of the two leadership domains you prefer in your leaders.
Leadership Circle Profile reveals a leaders Operating System: Internal assumptions(beliefs) that run behavior in both domains. This allows the manager/leaders to see how his/her inner world of thought translates into a productive or unproductive style of leadership. It increases inner awareness that affects your outward behavior.
There are several other features to the scale:

Percentile Scores: scores are displayed as percentile compared to a growing norm base. High scores are beyond the 67th percentile. Low are below 33%.
KEY: you'll see your self-assessment score as well as others who scored you in separate dimensions.
In addition to the Reactive-Creative Scale, three other summary dimensions include:
Relationship-Task Balance: this measures the degree of balance a leader shows between the Achieving and Relating Competencies. It measures the over, under, or balanced development of either half of the equation (people half or task half) that makes for greater leadership.
Leadership Potential Utilization: This compares the overall score of the dimensions measure to that of other leaders who have taken this survey. Comparing high and low scores it answers the question, "how am I doing?"
Leadership Effectiveness: this is the perceived level of overall effectiveness. Research shows this to be significantly related to business outcomes. It provides a measure of how all the scores translates into perceived effectiveness.
The Creative Leadership Competencies are further subdivided into smaller dimensions.
Relating includes, Caring Connection, Fosters Team Play, Collaborator, Mentoring & Developing, and Interpersonal Intelligence
Self-Awareness includes, Selfless Leader, Balance, Composure, Personal Learner
Authenticity: Integrity, Courageous Authenticity
System Awareness: Community Concern, Sustainable Productivity, and Systems Thinker
Achieving: Strategic Focus, Purposeful & Visionary, Achieve Results, Decisiveness
Corresponding Reactive Leadership Styles have three sub dimensions including: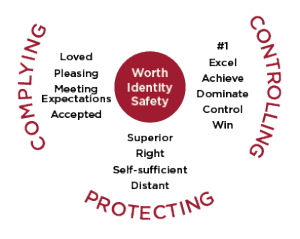 Complying, segmented into Conservative, Pleasing, Belonging and Passive.
Protecting: Arrogance, Critical, Distance
Controlling: Perfect, Driven, Ambition, Autocratic
Shinning the light on the underlying thinking patterns that drive current behavior, clients gain access to new choices and with it new possibilities.
Results: Woman Better Leaders
Adams and Anderson's results so far show only 22% of high reactive are women. They have a higher percentage in highly creative.
Adams and Anderson's conclusion, "We don't have the handle on leadership as men."
One of my customers completes 360's each year on their leadership team. The results are always insightful, and provide the leaders with steps to improve their leadership capabilities. Based on the dimensions this assessment provides it appears to provide solid support to help understand where to improve, but how to make improvements sustainable.
Looking for a 360 Leadership review to drive new behaviors and change in your leadership team? Contact dwick@positioningsystems.com

FINAL SCALEUP SUMMIT PRESENTORS – Joe Polish, Dean Graziosi

Joe Polish, Dean Graziosi are master marketers.

Joe Polish revealed when the Beatles John Lennon and Paul McCarthy would get together to write music for the group they called it "write yourself a swimming pool." The underlying directive. Write a song so good, it will sell enough records to give them both a swimming pool. The key to delivering a more leads, the message. We'll have Polish and Graziosi's ideas on how to write a compelling message next blog.