Every business I work within my coaching practice has a weakness. Often, it's more than just one. One or more of these weaknesses limits the businesses' growth.
Working on a weakness doesn't necessarily make it go away. Making it your Annual One Thing doesn't predict success either. See What's Your One Thing (3X).
As the expression goes, you can't put lipstick on a pig. Reality tells you, ignoring a weakness is a grave mistake.
(A weakness is only a weakness if it's detrimental to your business.)
In the Wizard of Oz, there's a scene where Dorothy, the lion, scarecrow, and tin man approach the Wizard in search of overcoming their weaknesses. Wizard puts on his usual performance to intimidate; however, Toto uncovers the ruse.
In our businesses, you can be like the Wizard of OZ. Authenticity demands we speak the truth to our people, we work earnestly to overcome and alleviate our weaknesses.
"Honesty is the fastest way to prevent a mistake from turning into a failure." ~James Altucher
Admiring Authenticity
This past week I read two blogs on Authenticity. Charles H. Green, the author of The Trusted Advisor and Trust-Based Selling, wrote Trust, Honesty, and Authenticity. In the blog, he answered a Linked In Question, "Is there a difference between authenticity and honesty?"
One of the best pieces from the article is this:
"On a practical level, people who strive to be honest often talk of it as a struggle: to resist temptation, to not gossip, to say things that can be embarrassing if they are true.
People who choose to be authentic have, in a way, an easier time of it. For someone who is authentic, the daily default way of life doesn't involve decisions or willpower: the default is openness, there is no issue of control vs. transparency."
The other article is from Dr. Travis Bradberry, author of Emotional Intelligence, 12 Habits of Genuine People. A quote for this article is like Green's, "Authenticity requires a certain measure of vulnerability, transparency, and integrity," -Janet Louise Stephenson
I sent the latter article to one of my customers, simply because he exhibits so many of these 12 Habits exemplarily.
In most of my Positioning Systems coached businesses, I find leaders who share these qualities as well as this higher quality of authenticity.
It's one thing to see these qualities in a person, it's quite another to find them exhibited in your business.
TRANSPARENCY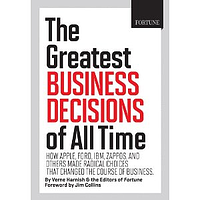 "The greatest mistake we make is living in constant fear that we will make one." John C. Maxwell
One of the greatest qualities of leadership is decisiveness. One of my customers is struggling with a team leader who is indecisive. They frequently fail to make decisions despite exhaustively researching it, and having all the necessary resources to make an intelligent decision. These decisions are small enough not to require the counsel of the Owner/CEO. The risk of failing appears to paralyze them.
Fortune Magazine and Verne wrote a book, The Greatest Business Decisions of All Time. It's a great read if you're struggling at all with making decisions. I've written several blogs on stories from the book including:
An unwillingness to admit your mistakes as a leader, to share the vulnerabilities you have as a company, weakens your culture. When you as the leader fail to concede to your business's deficiencies, morale, motivation, discretionary effort wilt.
You might as well admit your business isn't willing to strive for excellence. An unwillingness to look in the mirror to reveal your weakness reflects not just on the business, it reflects on your quality of leadership.
The Window and the Mirror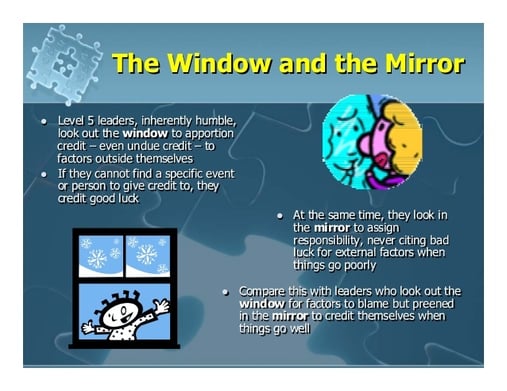 If you're a leader who struggles with admitting mistakes read this Forbes article, 4 Reasons Great Leaders Admit Their Mistakes, or this Harvard Business Review Article, Be a Leader Who Can Admit Mistakes.
Good to Great characterizes this leadership with the metaphor of the window and the mirror. "A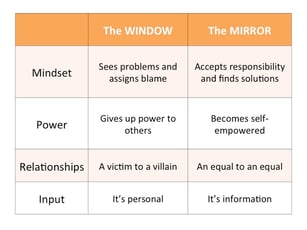 Level 5 leaders look out the window to apportion credit to factors outside themselves when things go well (and if they cannot find a specific person or event to give credit to, they credit good luck). At the same time, they look in the mirror to apportion responsibility, never blaming bad luck when things go poorly."

In Collins' book How the Mighty Fall he shares the characteristics of companies on the way up and those on the way down. Review this chart and ask yourself, which column represents your business?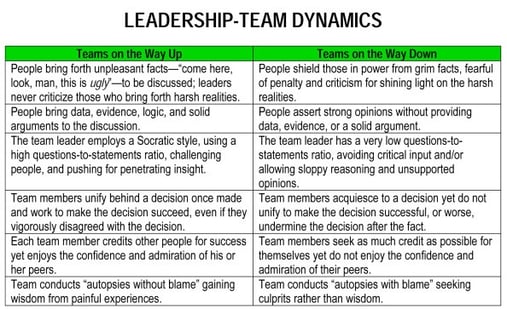 Ask yourself as a leader, how well do you do with the window and the mirror. Do you give credit to others when business is going well, and do you accept responsibility for failures or outcomes that are not expected, resolving to make efforts to get better results next time?
Leadership is just one of the critical areas Positioning Systems coaches our customer's CEOs and leadership team members on. Several of my customers schedule individual one-on-one weekly meetings to help them make decisions and develop their leadership skills.
If your business is looking for this type of mentorship, to explore, discover, strengthen your team, and grow you and your business, please contact me at dwick@positioningsystems.com.
Culture Eats Strategy for Lunch – Next Blog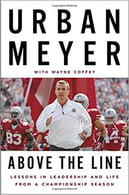 "Talent, schemes, tactics, and plans cannot replace a strong culture. A great culture can make even a mediocre strategy successful, but a weak culture will undermine even the best strategy." ~ Urban Meyer in Above the Line.
Many business owners fail to see the value of culture. It's not as important compared to systems, process, strategy, cash, people, and execution. Meyer's book Above the Line contains many metaphors linking building a successful football team to a successful business. Meyers' beliefs on the value of culture should be business 101. We'll share more next blog.