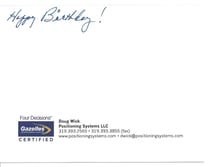 On my birthday, April 13, 1999, I received a letter from, Able Plumbing. Inside was a message wishing me a Happy Birthday and thanking me for working at Able Plumbing.
Two problems: The gesture was certainly well-intended; the reality was I no longer worked at Able. In fact I'd been fired by Able a year to the date , on my birthday in 1998. Isn't that ironic?
Sending letters to your employees on their birthday is a great idea. Perhaps Mary Kay's practice would have suited Able Plumbing better. Mary Kay sent hand-written birthday greetings to all her sales people. Perhaps if the President of Able had not delegated this duty to his secretary and done more than sign the letter he would have realized he was sending it to someone who hadn't worked at his company in a year. Who knows, he may not have even been the one signing the letters?
What does a letter like this reveal about a company's culture? What does a hand-written greeting card from Mary Kay reveal about the culture she built at Mary Kay Cosmetics?
Hand written says a lot. How many of you receive a hand written note from anyone? The act of writing a personal note of thanks in our own handwriting is practically a forgotten art form. You'd think getting a handwritten message is like discovering ancient hieroglyphics, as frequently as that happens these days!
One idea can't be overemphasized. A strong business culture starts at the top. If the leader doesn't believe in advocating and promoting the culture it's not going to happen no matter what the executive team or those at the tactical level have in terms of character and skill sets.
Mary Kay Cosmetics achieved success in building a strong culture due to the dedication, commitment, and sincerity of Mary Kay's intention.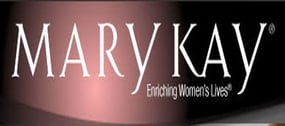 Mary Kay rewarded her top sales people with pink Cadillacs, diamonds and other gifts in an annual awards ceremony that rivals the crowning of Miss America. Once a year, thousands of Mary Kay sales consultants from around the world gather in Dallas, Tex., to honor their own. They sing Mary Kay songs. They give tearful testimonials about how the company changed their lives. All this still continues despite the fact their founder, Mary Kay Ash, died in 2001 at age 83.
Wharton management professor Sigal Barsade notes in his article The 'Masculine' and 'Feminine' Sides of Leadership and Culture: Perception vs. Reality, Ritual and ceremony, like the Mary Kay awards extravaganza, are important, along with clear expectations about the direction of the company. "Ultimately, culture is the informal system that people put together to know what the company wants from them."
While the culture of a company is informal, Barsade said senior managers have the power to shape it. "Culture, strategy and structure all have to work together, and top management is absolutely critical because they are the ones who not only determine the culture they want, but help to define the strategy and decide whether the structure is going to support the culture."
What Barsade said next should be remembered by every leader, The first clue to understanding an organization's culture is to look at what is rewarded — not just monetarily, but also informally. "Ultimately that is what the culture will promote." Sometimes, the company touts one set of values but actually rewards another. For example, she pointed to Enron, which outwardly promoted the value of integrity. "You can have wonderful plaques in the lobby and cards with the values printed on them," she said, "but sometimes those things — and what is truly rewarded —are not in alignment."
What's your culture like? Are you disappointed in how your culture is? The clue to fixing it lies in the ideas expressed here.
First do you as the leader embody the culture you wish your company to exemplify? What's missing? What are your people not demonstrating? Examine yourself. What might that say about you and the values you might be failing to express in your organization? Look deeply and be honest with yourself. I'm not saying you don't epitomize what you wish your culture and people to display. If you feel you do personify the culture you want, perhaps it's only you and a close group of people in the company that know that. Perhaps you need to extend yourself and represent this to everyone in your business.
Finally what do you reward? Are you like Enron or like Mary Kay? In too many organizations we are neither. We simply don't reward much if anything. How often do you reward people who stand for or illustrate the culture we are striving for? Observation is the key to change. Is it time you observed your culture and your own attitude to invest in the changes you wish to see?
When was the last time you spoke to your customers? We recommend executive team members talk to at least one customer a week and report back their discoveries in the Customer and Employee Data segment of the weekly meeting. What if in contacting your customers you found out they were interested in working for you? One of my customers executive team began disciplining themselves to do just this and discovered just that. Are you missing out on significant ideas and influence from your customers by not speaking to them on a consistent basis?
We'll explore Customer Feedback in our next blog.