What happened?
Have you ever asked your customer, "Take me back to the day when you first started looking for a solution…What happened?"
Today's customer is a new breed. Research from Google and CEB titled The Digital Evolution in B2B Marketing provides new insight into buyer behavior and it challenges conventional wisdom. According to the study, customers reported to being nearly 60 percent through the sales process before engaging a sales rep, regardless of price point.
The need to identify what makes your customer choose you is more important now because your customer is doing much of the decision making process prior to contacting you.
Adele Revella, author of Buying Personas,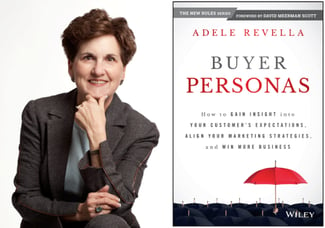 while not the most engaging of our speakers, addressed and reminded us of the importance of speaking to our customers. Positioning Systems and Gazelles recommend you collect qualitative and quantitative information on your customers every week. IBM has its top 200 managers talk to 5 customers and employees every week and review the information every Friday.
Revella recommended Companies need to understand, how, when and why the buyer makes their purchasing decision. She suggests you set up conversation with approximately 10 buyers, ask this question and then follow the path based on their answers:
Take me back to the day when you first started looking for a solution…What happened?
Then, keep probing for insight.
Insight – How and why do buyers make a decision to buy from you?
Do you know how and why buyers make the decision to buy from you? Do you have any idea, or, is it something you are simply taking for granted? Have you asked buyers to describe their buying decision? What matters to the buyer?
Revalla notes that companies frequently build buyer personas. In most models they tend to make significant generalizations that over-simplify. This is a problem. Companies need to understand how, when and why the buyer makes their purchasing decision. This helps design sales and marketing plays that fall at the intersection of what matters to the buyer and what the company does well. Sales persuade one buyer at a time…we need to persuade a market full of buyers.
Revalla offered these 5 Rings of Buying Insight:
a. Priority Initiatives
i. Drivers for decision to solve the problem
b. Success Factors
i. How buyers define success
c. Perceived Barriers
i. What obstacles must we overcome
d. Decision Criteria
i. Which attributes will they evaluate
e. Buyers Journey
i. How do decisions get made
Listen to your Buyers' Stories
Revalla again suggested set up conversation with buyer and ask them this first question and then follow the path based on their answers:
Take me back to the day when you first started looking for a solution…What happened?
Then, keep probing for insight. The buyers' first answer is the one you already know.
The interviewer shouldn't be someone that had interaction with the customer during the buying decision. This can prejudice the communication, particularly from the interviewer perspective; they may assume why. If you wish to make sure you have an objective view point, Qualitative Research Recruiters is a company that can interview buyers for you.
Research shows the fewer choices make it easier for people to make decision. Too many choices make the buyer believe there is a perfect choice that must be out there.
Ask yourself this question: How do you make the choice easier for the buyer? You want them to see that we are the easiest option. Remember, buyers are looking only for useful information. It's important to have Meaningful engagement as this matters to your prospect.
Here are a Revalla's Next Steps:
Document what you know about each of the 5 insights into your buyers' expectations
Identify a plan to interview recent buyers to discover the missing insights
i. 10 interviews will give you enough information
Segment your target audiences based on differences in your buyers' expectations
Evaluate your sales and marketing plays to ensure a flow of useful information
Continuously improve
Finally Revalla recommended these as follow up action steps.
Follow-Up Action Steps
Take inventory of your buyer knowledge
Priority Initiative: What causes buyers to decide that it is time to invest in a solution like yours?
Success Factors: What do your buyers expect to be different once they make this investment?
Perceived Barriers: What concerns prevent buyers from believing that it is possible to achieve these goals? Why would buyers perceive that another company or approach is better suited to their needs?
Decision Criteria: Which attributes of your product, solution, service or company do your buyers focus on as they weigh the merits of your solution vs. all other approaches?
Buyer's Journey: What resources do your buyers trust as they weigh their options? Which buyers are involved at each stage of the buying decision, and what is their impact on the decision to include or exclude you from consideration?
Revalla warned: If you think you are missing key insights into your customer's buying decision, set aside time to interview people who have recently made a similar buying decision.
Most of the companies Positioning Systems work with are failing in this area from the start. They fail to capture any type of customer feedback. They are not collecting, quantifying or sharing information in their leadership meetings. The failure to place a high priority on customer feedback means that complaints and compliments fail to be disseminated throughout the organization. Ideas, bottlenecks and simple resolutions take months and even years to surface or be solved simply because no one is paying attention and documenting the size or frequency of these issues. Worse is the frequency in which the same issues recur with customers. These reduce loyalty and result in customer loss.
John Dijulius, author of The Customer Service Revolution, notes that Employee apathy produces Customer apathy. Customer Apathy is a sign of a terminally ill business. When employees are apathetic you can count on the fact that leadership is apathetic to customers. It's a dangerous proposition when leadership is ignoring customer service.
When you ask why this occurs, it's simply because no one in the organization truly appreciates the value of customer feedback. Listen to your customers. If you focused on just that One Thing you would find enough ideas to improve your business and dominate your competition.
This is annual planning time. In one of my customers' annual planning meeting someone suggested improving the customer experience. Next blog I'd like to share some observations about Annual Planning, how to go about it, how many people to include and what an agenda for annual planning might look like.