As a salesperson for over 20 years one axiom to remember was never to impress your prospect with how smart you are. The prospect isn't interested in how smart you are. They're interested in solving their problem. The only way to solve their problem is to ask questions and listen.
Let's suppose you have a problem. You enlist the support of your friends. Which friends do you call on and which friends are most capable of helping you?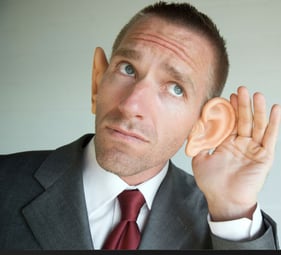 Answer: The ones who listen.
As I've enlisted friends to help me recently as I journey through a major challenge in my life it's interesting to see how often they tell me about their encounter with a similar problem, how they managed to work through and solve it. They're frequently adept and moving the issue from my situation to how they worked through their similar issue. This is not meant to denigrate my friends and their feedback. Rather it's meant to offer a lesson to me and my readers as to how to best work with people you wish to influence and help, if you are a leader or manager.
On Friday I had breakfast with a good friend, and exceptional salesperson. I'd asked him to have breakfast to help me with a customer of mine in the construction industry that was having challenges with closing his leads. We spoke for about an hour with his providing some excellent ideas to help my customer. The conversation turned to some personal issues as we closed our meeting. His ability to listen without criticism or judgement, to simply nod and comment positively allowed me to open up in a way I rarely do on a sensitive issue.
It reminded me of a recent Sunday church sermon, "Love listens!" Theodore Roosevelt is credited with, "People don't care how much you know until they know how much you care." This gentleman demonstrated his sincerity, his concern and discretion by making me the center of his attention, asking questions, and listening attentively.
It's great that someone has had experience they feel they can offer assistance and guidance with the issue you are facing. When people have an issue or problem they're often not open to the solution in that moment. You're familiar with the statement, "Prescription without diagnosis is malpractice?"
A friend, a leader, a manager, a spouse who listens is a premium few of us can count on.
Friends who listen are the ones I want to spend time with. Hopefully I reciprocate when they need me. Those that tell us how "smart" they are, how they solved an issue, become less of a resource. Their failure to listen patient and attentively means we're less likely to confide in them in the future. When we have a problem we generally aren't looking to hear how smart someone is. We're looking for someone to listen. Many times just speaking out loud brings clarity. As a leader, manager or friend, you can gain more by just accepting someone and acknowledging their issue than you can by adding more to their troubled mind by giving them a solution.
Every situation is different, no matter whether we think it is or not. To the person going through the challenge there are very few similarities. Why? Because it's their problem.
I've also learned seldom can we solve the issue we are facing on the same level of consciousness that we are in. You can't face the problem on the level of the problem. Or as Einstein stated, "No problem can be solved from the same level of consciousness that created it."
In Christine Comaford's SmartTribes: How Teams Become Brilliant Together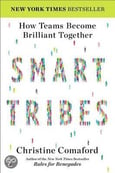 she notes that to make any change, personal, professional, or organizational, you have to know where you currently stand. The single most important practice in creating a SmartTribe is to know where you are and be where you are: to focus. Practicing focus has three dimensions. The first dimension of focus is to be present with people here and now. This means that if you are at a meeting, you are listening to what people are saying and not thinking about the past or the future.
My friend Friday was present. How many of your friends, associates, managers and leaders are truly present when you are with them?
More importantly how present are you when you are with your spouse, friends, family, coworkers and subordinates?
As I noted in Kids Say the Darndest Things – Formula for Human Potential: The person who has high self-esteem, confidence and enthusiasm and genuinely likes himself rarely if ever gives off the appearance of arrogance. This person is so well centered that they easily focus on others. They make who they're with the center of attention, asking questions, showering them with their interest by listening attentively, and in doing so earning their trust and respect.
How often do you exhibit the kind of behavior my friend did in making me feel I was his center of attention? If you're not getting the kind of performance you want, how much of it is due to your failure to give respectful listening to your subordinates? Do you have the kind of self-concept that allows you to listen without judgement and criticism? Do you give the people you engage with each day the thoughtful respect that wins their trust and respect?
The Napoleon Hill Foundation's newsletter on Friday shared Jon J. Muth's written and illustrated children's book The Three Questions. Nikolai is seeking the answers to three questions from Leo, the wise old turtle. Nikolai's thoughtful questions are:
When is the best time to do things?

Who is the most important one?

What is the right thing to do?
In the end of the story, the old turtle sums it up best by saying, "Remember then that there is only one important time, and that time is now. The most important one is always the one you are with. And the most important thing is to do good for the one who is standing at your side."
SmartTribes is packed full exceptional ideas to help you manage better and achieve measurable increase in your team's performance. Would you like to achieve 67%+ emotional engagement, loyalty, accountability and ownership focus from your team? How about increasing your key strategic/high value time by 5-15 hours a week? Be sure to read Thursday's blog.