If you recall when I first got into the hospital I wrote a blog Can Routines Really Set You Free? Little did I realize that getting back home would be a routine changer as well. Football legend Bear Bryant said, "It's not the will to win, but the will to prepare to win that makes the difference."
It's taken me several days to get up to speed back in my office, part due to spending time with my family and my oldest son Dan who flew in from Washington DC on Tuesday. The other portion is simply because setting new routines from what I had at University of Iowa to protect my health here at home simply take time and preparation.
First here's how I came to be home, then the impact of preparation in developing success routines.
Late in the evening of my birthday (last Friday – yes it was the 13th) I received a striking bit of news that elevated my spirits considerably. My physician assistant, Kevin Heckman offered that upon completing my chemotherapy Tuesday they were considering sending me home.
Home I immediately thought? Why would they be sending me home if all this time they had cautioned me about the hospital being the best place for me? Why would they suddenly change their minds about where they feel is the safest and best place for me to recover? Especially since in the hospital I wasn't even allowed off the floor I'm on?
Combine this conflict with anticipating, "how fast could these next days go?" I desperately wanted to come home. From the evening of February 24thuntil my birthday I'd been in the hospital for 50 consecutive days. (it would eventually end at 54 days) A long time to be away. I've been anticipating going home since my wife, Michelle put up a, "There's no place like home"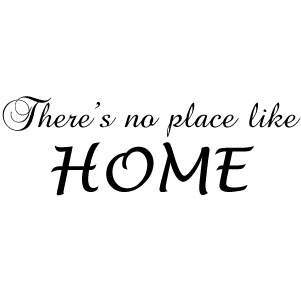 sign directly across from my bed.
Of course I had to know why it was okay to go home after all this emphasis on remaining in the hospital. I asked my physician assistant, my nurses, and my two doctors, Dr. Silverman and Dr. Carter. Dr Carter provided perhaps the best and most complete explanation coated as well with the harsh reality of my condition and elements of the Stockdale Paradox.
The nature of my ten day chemo treatment is slow acting. I will not be receiving a bone marrow biopsy for 18 days after chemo is completed. (scheduled now for May 8th). It would mean I would be in the hospital for 18 days with literally little to do except wait. Sending me home they felt would limit risks of contact (as long as I stayed within the confines of my home) and allow me to get a psychological boost!
Dr. Carter wasn't one to mince words when he spoke to me about this aspect. He reminded me that after 2 failed inductions the chances of success for recovery from leukemia fall precipitously. With regards to attending events, eating out at restaurants and having my grandchildren over, he offered no judgments. Rather he suggested that I chose which events or situations to include since quality of life is an important consideration considering what I might be facing.
We discussed the possibility of still getting my leukemia into remission. I asked Dr Carter what the possibility of achieving success in the bone marrow transplant phase would be. He indicated that this would still only be a 30% success rate, if I can first get the leukemia into remission.
You can see I'm facing long odds. That's the portion of the Stockdale Paradox that can be especially challenging. Yet in my mind while I'm aware of the long odds I also am aware that the doctors can't believe how remarkably well my health has held up. Virtually no fevers and the most serious pain issue came in the last week of my hospital stay when a pain in my elbow and arm occurred over several days which they diagnosed as tendinitis from sitting too low in my chair while typing on the computer.
Dr. Carter noted that when the biggest problem you have with a patient is they're using their computer too much, that's a particularly good sign with leukemia.
I have one fear being at home. That I will catch some virus or bacteria or infection from someone who visits or from my wife or children when they've returned each day. My wife is effectively playing Nurse Ratched or possibly the health gestapo. God Bless her!
Coming home after being away for almost 8 weeks reminded me again of the impact of preparation and routine are. The best managers and leaders have routines. They have these routines because they are preparing to win.
If you're not prepared for Monday morning, if you have identified your top six priorities for the next day, your company and individual priorities for the next quarter, how can you possibly be prepared to win? Do you not care or are you simply being foolish?
Success doesn't come to those who wait. It comes to those who are willing to prepare for it. Meeting rhythms, priorities and metrics, this is the stuff of Strategic Discipline. My quarterly plan includes a regiment of metrics, priorities and meeting rhythms that I'm absolutely committed to making sure end up super green on my critical success criteria. My health is the most important priority I have.
What's your most important priority and what routines and preparation do you have in place to be absolutely sure you will achieve it?