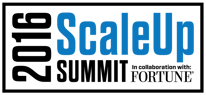 Five years into my career as a radio salesperson I was interviewed for a sales position with HILTI. I was frustrated at the time with my career and income, and HILTI seemed like a good opportunity.
The radio station I worked for didn't want me to leave, and within several months I was promoted to sales manager. As it turns out, getting into selling a tangible product probably wasn't my best career move anyway, as I discovered years later when I worked as a plumbing sales person in Phoenix where I eventually had my future "feed up!"
Alexander Osterwalder, at a previous Growth Summit, presented his business model canvas. His Value Proposition Design presentation offered a similar systematic approach to developing your Value Proposition.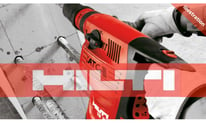 His example of how HILTI changed their value proposition and with it their basic business model impacted me due to my brief exposure to HILTI.
How To Create a Great Value Proposition
Osterwalder offered 10 characteristics of Great Value Propositions:
Are embedded in great business models
Focus on few pain relievers and gain creators, but do those extremely well
Focus on jobs, pains, or gains that a large number of customers have or for which a small number is willing to pay a lot of money
Align with how customers measure success
Focus on the most significant jobs, most severe pains, and most relevant gains
Differentiate from competition in a meaningful way
Address functional, emotional and social jobs all together
Outperform competition substantially on at least one dimension
Are difficult to copy
Focus on unsatisfied jobs, pains, and gains.
Consider this tool a prerequisite for your business. Many Top Thought Leaders warn the "Uber, AirBNB" model is destined to impact every business and industry. It's critical then to "reinvent yourself."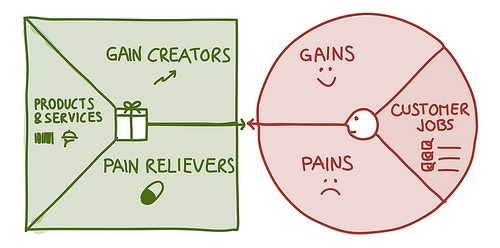 Osterwalder's Value Proposition Model is particularly important if your smart. Osterwalder points out, "the smarter you are the less likely you are to admit your errors!" For every company innovation that fails, there are spreadsheets showing how awesome it will do. Those spreadsheets Osterwalder points out are not visionary, they are a hallucination.
Better Place believed a system for exchanging car batteries for electric cars would work. It cost $812 million (that's right million!) to discover it wouldn't.
Osterwalder recommends testing your value proposition. The model he provides helps achieve this. He recommends interviewing customers with a note taker and an observer card. He urges you to avoid opinions. Ask for facts. Ask for customer evidence. Facts are always better than opinions. Behavior never lies! The interview should focus on jobs, pains and gains.
HILTI's EXAMPLE
HILTI already had a good business model, yet they were hitting a ceiling on expansion. HILTI has several types of customers, requiring a Value Proposition for each type of shareholder. The example he provided is for CEO's of smaller businesses. Their need to manage deadlines and to avoid the frustration of broken or stolen tools drove the jobs, pains and gains of this model. One gain the new business model "The Right Tool At the Right Time" provides small contractors is the newest tools.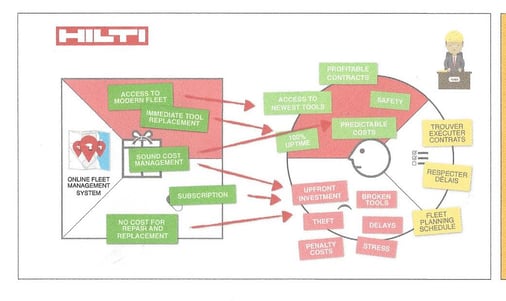 A contractor without the right tool at the right time is often penalized. Either through inefficiency of his labor or because a job not finished on time incurs a penalty. The contractor loses profit on a job that had a very slim margin to begin with every time his men fail to finish the job on time.
The new value proposition is HILTI's Tool Fleet Management. It offers to take control of your tools to protect your business from hidden costs. It provides:
No Cost for Repair of Replacement of tools
No upfront costs
Inventory Management
This helps the small contractor achieve cost management of his tool inventory, while getting the newest tool at the right time.
HILTI tested this system first before launching it. Osterwalder points out what people say is not what they do. It's critical to observe how they behave.
Using the value proposition canvas in conjunction with the business model canvas will help you reduce risk with new markets and innovations.
Observe the circle on the right with a pie for customer jobs, customer pains and customer gains. Write yours or put sticky notes in each, paying attention to the few that most impact your customer. The square on the left is where you identify what you can relieve pain, gain creators, and which product, or in HILTI's case products which became services you can provide.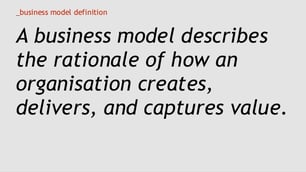 It might seem counter intuitive, Osterwalder believes that an inferior product with a better value proposition and business model beats a better product with an inferior value proposition and business model.
Use this tool to test ideas, formulate plans for innovations, and achieve your growth strategy.
NEXT BLOG
In business and in life, I tend to be a rescuer. Rescuers exist in the "dreaded drama triangle" between persecutors and victims. Little gets accomplished in the drama triangle. If you're like me, you'd like to quit being a rescuer to avoid the drama triangle. David Emerald Womeldorff, author of The Power of TED (The Empowerment Dynamic) our next speaker shares how to move from the drama triangle to the empowerment dynamic. Discover how to become a creator versus a rescuer next blog.