In The Hedgehog Concept we discussed the intersection of three circles that provide your One Thing Focus for the strategy of your business. Where do you find or discover the elements that comprise the three circles?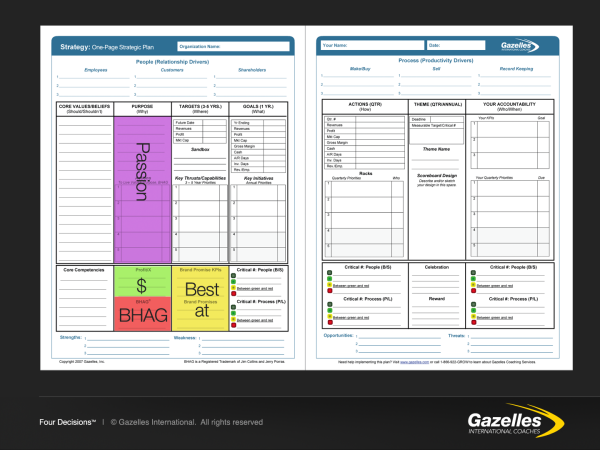 If you've completed portions of your One Page Strategic Plan you'll have made progress toward understanding what these are.
Let's start with "What you are deeply passionate about?" This could be your Core Purpose or your BHAG.
Core Purpose is the answer to the question: Why do we exist?
As discussed in previous blogs, the Patrick Lencioni's The Advantage and Jim Stengel's Grow: How Ideals Power Growth and Profit at the World's Greatest Companies the emotional elements of a business are often the driving force in building culture, and competitive advantages.
What Is a Brand Ideal?
A brand ideal is a higher purpose of a brand or organization, which goes beyond the product or service they sell. Jim Stengel explains it this way: "The ideal is the brand's inspirational reason for being. It explains why the brand exists and the impact it seeks to make in the world. A brand ideal actively aims to improve the quality of people's lives. It creates a meaningful goal for the brand - a goal that aligns employees and the organization to better serve customers."
A Brand Ideal/Core Purpose proves maximum growth and high ideals are not incompatible. They're inseparable. The Stengel 50 shows companies with a Brand Ideal perform nearly 400% better in profit than their counterparts.
What's your BHAG? Jim Collins identified it in Built to Last and Good to Great as, "Big Hairy Audacious Goal."
Here are 3 practical tests of your BHAG:
Your BHAG drives you and your strategy. It should be a minimum of ten to 30 years ahead in the future.
It should be challenging enough so that you are not sure how you are going to reach it. But should not be just a wall poster! It should challenge you to greatness! It should be audacious not braggadocios!
Finally it should reinforce your business fundamentals.
We work very hard with our clients on BHAG – it is a very challenging one to get and does not come quickly – be patient and persistent.
Those are some ideas to answer "What's your passion?" Let's look for where you can find help with "What are we best in the world at?"
Ideally if you've created a Brand Promise for your business this is the place to discover what you feel you are best at.
A Brand Promise is the key factor that sets you apart from all your competitors and it is what brings customers to you. It must be both competitive and measurable. It's great to create a wonderful slogan or advertising message, but if your operation can't deliver on it, you gain absolutely no differentiation in the marketplace.
It's a mistake to create a Brand Promise that is not what your clients need. No matter what your Brand Promise is, you first should recognize what your customer needs and how you intend to be different in the marketplace. You must identify the key activities that will support your Brand Promise, then, even before you develop the slogan or USP [often best left to the "creative" in your marketing department or an ad agency] you should determine how you will measure whether or not you are hitting the target you have set.
Without a measuring stick these promises have no potential to succeed since they weren't rigorously quantified. What's the point of promising your customers you will deliver an outcome that is different if you aren't measuring the consistency of providing it?
Look at first determining what your #1 Brand Promise is. For Southwest, it is low fares; for McDonalds, it is speed; for Rackspace, it is finding a solution in one hour or less; Quicken is unlimited phone support. Your #1 Brand Promise should address what you feel is the greatest need your customer has that you can solve better than your competition. Your supporting Brand Promises should be additional needs your customers have that you can measure and that lend credibility and emphasis to your major Brand Promise.
Have we helped you on the road to developing your Hedgehog Concept? We previously discussed "What drives your economic engine" in Find Your Economic Denominator Profit per X. As noted earlier, we work very hard to help our clients discover these elements. They are important entries in your One Page Strategic Plan. Let us know if we can be of help in building this part of your business to help it grow.