We would all like to make better decisions. Would it surprise you to know that how you go about making a decision will have little to do with how your decision turns out?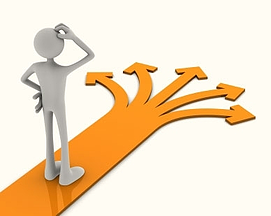 All the time spent agonizing on making the proper choice has little bearing on whether or not it will turnout being the right decision.
The importance of making good decisions for your business cannot be diminished. Remember the paradox of execution versus strategy. While execution is critical to achieving results, it will not be the reason your business will eventually fail. You will fail most likely due to poor decision making.
In other blogs we've discussed how to make good decisions. Today I want to provide insight into what will make your decision either a good or bad choice.
Almost 30 years ago I faced a very difficult decision. I had made some bad decisions in my marriage. My wife and I were at a crossroads. We had a child who was just over two years old. I loved my son and the tug of that powerful desire to be a good father burned inside of me. Unfortunately I no longer felt love for my wife. We had tried counseling, however either her dislike for the counselor or refusal to take responsibility for any of the challenges in our marriage resulted in no progress. I wanted to stay married because I loved my son, however I could sense it would be difficult to renew my relationship with my wife at the time without her admittance to any contribution to our discord. Her difficulty forgiving me, the depth of our estrangement, disharmony and feelings of guilt made it difficult for me to believe we'd be able to get back together. I didn't feel I could love her anymore.
As I struggled to make a decision, wavering between the commitment and responsibility to my son, the fear of living with someone I didn't love, and who I wouldn't be happy with, a friend offered an article on decision making. The article offered most decisions don't have a right or wrong answer. In many cases the difference between one direction and another is small. The real significance with any decision isn't what you decide; it's what you do after you decide.
Think about that for a minute. The agony we go through in making the right choice is not what determines whether or not the decision is right or wrong. The decision will be right or wrong based on what you do after you've made your decision.
Proper Execution is the determining factor in any decision-making process.
We spend interminable amounts of time nervously questioning ourselves, the data, the differences in alternatives, and the uncertainty of possible outcomes. Yet these issues do not determine the outcome. What we decide to do once we've made our choice/decision ultimately is the definitive factor in whether the decision is right or wrong.
In battling with decision-making follow the process we've discussed in How Do You Make Good Decisions? Read and learn the impact of Chip & Dan Heath's book Decisive and their methods It's A WRAP - Better Decision Making. Then be ready to cut yourself and your team some slack on making the decision, especially if that decision is close in alternatives.
The decision you and your team make will not be as important as the execution you carry out once the decision has been made. Put your energy and efforts into implementing your decision and you will be satisfied with the impact it provides.
There are four factors make business decisions difficult:
Lack of information
Timing differences between alternatives
Uncertainty about the possible outcomes of the decision
A decision maker with an indecisive personality
Strategizing and Planning for 2014 can help you be better prepared in all these areas. Collecting information, weighing the timing differences, and building a decision tree to help provide more certainty with outcomes will help. Yet regardless of your ability to mitigate these four factors, ultimately what you do after you make your decision will determine your success. Remember this. It will help relieve the pressure in decision-making.
Learn more about how Positioning Systems and the Rockefeller Habits can help provide the discipline your business in these decision making areas. Register today for Mastering the Rockefeller Habits Four Decision Workshop.