Despite what we'd like to believe running a successful business requires a great deal of discipline. Whether it's leading your team or working on the front lines, discipline is a day to day, hour to hour, minute to minute demand for a great business. As Jim Collins provided in Good to Great "Greatness is not a function of circumstance. Greatness, it turns out, is largely a matter of conscious choice, and discipline"
What are those disciplines? Which disciplines are required to build a great business? In the Rockefeller Habits 4-3-2-1 formula, the 3 represents the disciplines required to build greatness.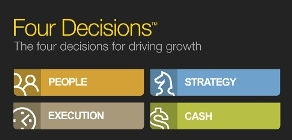 At Positioning Systems we call these Strategic Discipline. Strategic because they require a long term commitment to continuously renew and follow establishing priorities, metrics, and meeting rhythms. These disciplines establish the routine required to keep your business focused on what's important. They naturally emphasize the fundamental principle of Pearson's Law, "When performance is measured, performance improves. When performance is measured and reported back, the rate of improvement accelerates."
The three disciplines provide the capacity to accelerate your growth. Establishing a cadence of accountability through meeting rhythms, the clarity and alignment of priorities, combined with dashboard metrics that monitor your business priorities, you have a rigorous routine that virtually guarantees success when followed consistently.
Growth can be a disruptive force! When you grow too fast it impacts your businesses cash flow, communication, employees, customers, vendor relationships and a myriad of other areas too numerous to mention.
Rockefeller Habits business development coaching is especially created to provide solutions to the issues and challenges growth company's experience. If your company strives to be a Gazelle (Growing at 20% or more a year), or simply wants to gain more control and consistency, then Gazelles 4-3-2-1 formula for business success can work for you.
On November 12th Positioning Systems will conduct a Mastering the Rockefeller Habits Four Decision Workshop. This event provides you with the opportunity to learn and experience the Rockefeller Habits 4-3-2-1 formula for business success. You will learn the principles of Strategic Discipline to help your business execute better. Much, much, much better. In addition you'll:
LEARN the Four Decisions you must get right or risk leaving significant revenues, profits, and time on the table.
GAIN practical, easy-to-use tools to improve your business results right away.
IDENTIFY your A, B and C performers with a Team Talent Review and generate the "next steps."
BUILD or refine an executable One-Page Strategic Plan
And More…
This could be called an historic event, but it's not, only for me. It will be my first public appearance since contracting Acute Myeloid Leukemia in February of 2012. I hope you'll join me to learn more on how you can improve your business.
For more details download the flyer, or watch Verne Harnish's short invitation. You can register for the event at Mastering the Rockefeller Habits Four Decision Workshop.