Imagine if 96% of the people you hire one year later would not only be working for you but performing at a higher level than the candidates you'd hire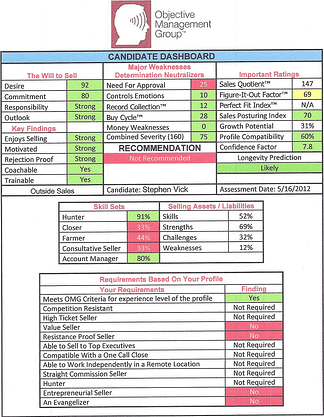 d previously for this position.
Objective Management Group, one of Gazelles and Positioning Systems business partners, provides that type of quality predictive validity for sales people.
Hiring the right sales people is a different process than simply Topgrading for the position. Even Topgrading recognizes this and had developed Topgrading for Sales to address it. The challenging part of hiring sales people is that success in one industry does not mean a candidate will be successful in your industry. In many cases success in the field they are currently in doesn't equate to their sales prowess or ability. That's because the "best" revenue producing salesperson on a sales staff could be the result of territory, account management responsibilities for a large legacy account or having received the best leads for a long period of time.
The ability to produce high revenue is not always the result of sales skills. The best sales person could be the person on your staff who is struggling, yet knows how to build relationships, convince and collaborate with your customers, he's simply not been in the business long enough or been given the quality of prospects others have.
As a sales manager and general manager in broadcasting for over 20 years I can tell you that a key to success was my ability to find and hire good sales people. I had a system for discovering sales people and was always networking to discover new talent. Part of my system included a test that attempted to determine whether or not candidates had the skills and behavior to be successful. For years I used a real-estate test that I'd scored well on (we tend to like tests or tools that aggrandize our ego) and it served me well in discovering candidates with even no previous sales experience.
Objective Management Group is the premier and original provide of sales assessments and sales screening tests. Their tests are set up requiring you to establish criteria that determines what a company salesperson needs to succeed in 30-35 specific areas of selling. The candidate is then asked multiple choice questions to determine whether they match the profile for the type of selling your company does. Questions also determine whether the candiates has essential sales skill that Objective Management Group years of analyzing successful sales testing has determined are required to fit the best qualified sales people for the sales experience you are looking for. The candidate is rated against this profile and your industry standards and then given an grade levle to be recommended or not recommended based on them meeting or exceeding those two compliation of variables. The result is a quick profile that tells you immediately whether or not to interview the candidate or not. You can see a sample of the screen test here.
Imagine the time this saves in culling through resumes and phone calls to candidates? You don't even have to speak to a prospect, you simply direct them to a website that provides the test, you receive the report and you determine immediately by their score whether they are worthy of a short interview or not.
Interested in discovering whether one of your sales candidates measures up? You can have them take the test at Sales Candidates (Free Trial Available)
Here some additional mouthwatering statistics on Objective Management Group's Screen Tests:
75%: Of those candidates not recommended but who for some reason get hired anyway, 75% fail within 6 months.
92%: Of those candidates recommended and hired, 92% rise to the top half of their sales forces within 12 months.
96%: Predictive Validity. One year later, 96% of the candidates who were recommended and hired were still at the company and performed more effectively than candidates hired using other methods.
In fact when it comes to sales force architecture, Objective Management Group has the tools, data, validation, understanding and track record to optimize your sales force. While you may not need to resolve all of the issues that make up your sales force architecture, most of them will apply:
Optimization – do we have the right number of salespeople and can we do more with less?
Roles – do we have the right salespeople in the right roles and, if not, what are the best roles for them?
Models – which of our salespeople can make the two most desirable sales transitions of the 21st century? Who will be able to transition from behaving like an account manager to being more proactive at hunting for new opportunities and new business?
And who will be able to make the transition from presenting/proposing/quoting to more customer focused consultative selling?
Process – do we currently have an effective sales process or do we need a more formalized, structured, optimized sales process?
Selection Criteria – have we been selecting the right people for our sales organization and, if not, how should our selection criteria change?
Alignment – is our sales leadership/management team aligned on strategy?
Execution – is the current sales force capable of executing our changing strategies?
Sales Management – how effective is our sales management team at coaching, motivating, recruiting, developing and driving accountability? Is their success or lack thereof a result of their people or their sales management skills?
Development – Which of the B's, C's and D players can step up and become A's and B's and who can't be developed? What will it take? How long will it take? How much improvement is possible? What will the ROI be?
Compensation – Is our current compensation plan effective and are our people motivated by it? If not, what must change?
Finding the right candidate to hire for any position today is challenging, but it is especially so for sales. Discover how you can make the right choice for your next sales person by contacting Positioning Systems or Objective Management Group. Do you know how much the last sales hire mistake cost you? Discover how much with the Sales Hiring Mistake Calculator.
What's the outcome of your company's dull, boring meetings? An impact that can greatly influence your businesses success or failure. You don't want to miss the discussion next blog.