Attempting to find someone to fill a key position at your company after they've left is the worst time to do so.
Why?
Many reasons, perhaps the greatest being the time frame required to find a capable replacement is generally 3-6 months depending on the executive position you're filling. You need to always be ahead of this curve by continually sourcing for talent when you didn't need them.
The following are considered the Five Best Methods for Sourcing Talent:
Source How Often Mentioned
Referrals from business network 77%
Referrals from personal network 77%
Hire external recruiter 65%
Hire a recruiting researcher* 47%
Hire internal recruiter 24%
The top two are recommended by Topgrading for generating a flow of right candidates for your business. Unfortunately among "average" managers it is the least practiced approach to sourcing. Does that mean you have "average" manager? Since when did you become "happy" with being mediocre?
If you're wondering why your business is not reaching the level of success you'd like you can start right here with people. Remember Jim Collins first principle in Good To Great, "first who then what." Without a staff of high achievers your business will never provide the success you want it to attain.
Don't believe that networking is the best way to find the right candidate? A recently released 2013 North American Staffing and Recruiting Trends Report, according to more than 1,800 recruiting professionals, job boards ranked dead last in terms of most effective ways to source high-quality candidates.
Recruiters rated the effectiveness of various common methods for finding candidates in 2012 on a scale of 1 to 5 (1 being the least effective, and 5 being the most effective).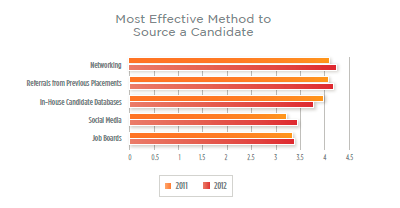 Networking with other people, firms, and associations" came out on top with an average of 4.17,
Referrals from previous placements" was second with 4.08,
In-house candidate databases" rounded out the top three at 3.84.
45% of respondents cited "social media" as a highly effective sourcing method, giving it an average rating of 3.48. This is in contrast to 2011, when social media was in last place with a 3.18 rating.
So what have you learned so far?
Do you have average managers? Where would you classify your leadership?
If you have average managers it means you're an average leader. When did you start accepting mediocrity in your business?
When evaluating candidates, what's the best predictor of future behavior and performance? Chances are if you've been doing what you've been doing in terms of recruiting and hiring this blog won't get you to change. You see you're the victim of this rule as well. You'll continue to get the same results you've been getting, yet grumbling and complaining that you can't find good people. The reality is you're not willing to work hard enough to get the right or the best people.
In speaking to one of my clients yesterday the first step he failed to complete is simply to define who or what he is looking for. That means creating a Job Summary Scorecard to define the Mission for the position and the critical accountabilities (measureable Key Performance Indicators) that you expect this person as an "A" player to produce. It also provides a list of competencies that you feel are critical to their job performance.
Why do this? So you know what you're looking for when you find it!
So many positions get filled without any idea of the performance required. This is a severe disservice to the company and an even greater disservice to the person being hired. Start with the position. Be clear about what you want.
Once you have this in hand, begin your search. Start now grooming and discovering which are the critical positions in your company. Begin networking with your friend, Linked In, civic organizations you belong too, any and every place that you have business connections.
Waiting until that administrative assistant that has kept your house in order for fifteen years to leave is too late. You're behind the Eight Ball now and are likely to make a bad decision in order to fill the position. This will only set you back even further in terms of your productivity. Plus a poor decision means having to go through the recruiting and hiring process again with less confidence then you had the first time.
Having one or two people you are confident you can reach out to and fill each important position on your staff now is a critical aspect of leadership.
If you feel finding the right people for your staff is difficult, the finding sales people is even more challenging. We'll explore how OMG's Screen Test provides a 96% Predictive Validity. One year later, 96% of the Objective Management Group's Candidate Assessments recommended and hired were still at the company and performing more effectively than candidates hired using other methods. That's next blog