Connecting. In our monthly sales training with one of my clients we've established that building rapport, respect, trust and the relationship is the most important part of the sales process. The RAINGroup.com's study What Sales Winners Do Differently includes tips and research that diminish this aspect of selling in today's environment.
While the articles from Harvard Business Review, Inc Magazine, etc., indicate solution selling is dead, the reality is connecting and building rapport is not the same as it's been in the past.
Solution selling is not dead. Not even mostly dead. But it has changed in two important ways according to the RAINGroup.coms research What Sales Winners Do Differently:
It's no longer sufficient by itself for success, and
People need to think of it differently than they might have in the past.
While people define solution sales in a number of ways, at the core of the solution or consultative concept is connecting the "pain" of the buyer with the products, services, and
overall capabilities of the seller as "solutions". There's typically a heavy emphasis on the seller "diagnosing" the needs of the buyer.
The need for diagnosis implies that the buyer doesn't have a thorough understanding of why they find themselves in their current, undesirable situation or what to do differently. Through diagnosis, the seller figures this out like a doctor might with a patient who feels unwell, but who doesn't know what they have or what to do to get better. These days, diagnosing needs isn't nearly as important as simply demonstrating understanding of needs.
Interesting enough the RAINGroup.com study discovered the second-place finishers actually focused more often on diagnosis than the winners, yet they still lost.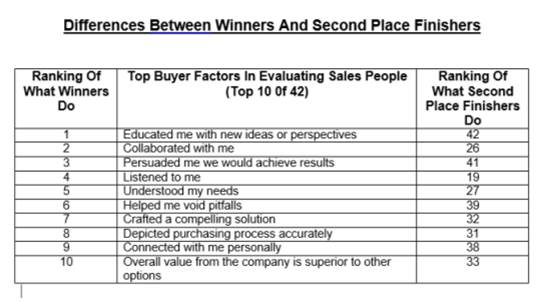 Sellers may not have to diagnose as often or deeply anymore, they do have to demonstrate understanding of need. This is critical. Looking at the differences between the winners and the second-place finishers, "understood my needs" was the fifth largest gap. Winners demonstrated they understood the buyer's needs 2.5 times more often than the second-place finishers.
Looking for keys as to why your best sales people sell more than others? RAINGroup.com research sites these:
Factors Most Separating Winners from Second-Place Finishers
Educated me with new ideas or perspectives

Collaborated with me

Persuaded me we would achieve results

Listened to me

Understood my needs

Helped me avoid potential pitfalls

Crafted a compelling solution

Depicted purchasing process accurately.

Connected with me personally

Overall value to the company is superior to other options
These factors represent the greatest gap between what the winners did versus second-place finishers. Not only do winners and second-place finishers sell differently, they sell radically differently. The second-place finishers either do not have the skills to implement, or do not value the same set ten values indicated above.
Level 1: Connect used to be enough. It's now the price of entry.
A needed change in the solution sales concept is a shift away from the prevalent use of the words "problem" and "pain." These are the two most common terms associated with discovering a prospect's needs. These words all too often drive sellers to employ find-out what's-wrong-and-fix-it thinking. The sales winners, however, don't just focus on the negative, they focus on the positive. From my sales experience this is a critical difference you need to realize impacts whether or not you produce the right outcome.
Sellers who focus on aspirations as well as afflictions are able to directly influence the buyer's agenda by inspiring them with possibilities they hadn't been considering, but should be. Indeed, opportunity creation is a core outcome of Level 3, but it starts in Level 1 (Connecting) with a shift in focus from afflictions-only to afflictions and aspirations. Working in conjunction with demonstrating an understanding of needs is the seller's ability to craft a compelling solution. Together, understood my needs" and "crafted a compelling solution" mean the seller connects the dots, drawing clear parallels between buyer needs and how to solve them.
I urge you to read the full report What Sales Winners Do Differently. While connecting is important, building rapport and the relationship, the study shows that today it is more tablestakes than it is the difference between getting the sale or not. That in itself is a game changer and something you and your sales people need to be very aware of as you work through your sales process and produce sales performance at a higher level.
Level 2 for What Sales Winners Do Differently is: Convince. Sellers who win convince buyers of three things. We'll look at what those three things are and why winners are more successful at minimizing buyers' perception of risk next blog.