A customer complaint is a good thing. It means you know that you need do to something for improvement.
Perhaps that's why so many small to mid-size businesses fail to capitalize on being good at customer service. Customer Service is a constant, repetitive, consistent need to attack improvement. Does your company have the ability to sustain, commit to, and consistently practice this type of discipline?
When a customer isn't satisfied;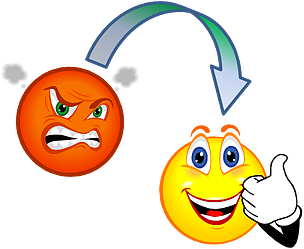 You lose loyalty
Customers tell others
You Lose Money
Customer Satisfaction is either falls at the top or at the bottom grade level. It's good or it's bad. It goes without saying you never want to be at the bottom with any of your customers.
You should strive for maximum satisfaction. On the Net Promoter Scale that would be a 9 or a 10 where customers are advocates for your product or service. Are you achieving this? If so, to what degree? Do you have any idea how satisfied quantitatively your customers are with your level of customer service? How do you know? What's your measurement?
In order to achieve maximum satisfaction you need to measure three things:
Employees (Happy Employees lead to Happy Customers)
Leaders
Customers
What we need to do is measure customer dissatisfaction. And remember the problem behind the problem. For every one complaint there are 10-25 people who don't complain. Read more on customer dissatisfaction numbers at Customer Service Improvement Starts Here.
The key to customer service is to learn how to prevent customer dissatisfaction. That's why tracking and hearing customer complaints is so critical. Michael Gerber, E-Myth Revisited put it this way, "You can't manage what you don't measure, and what you don't measure you don't understand."
Is Customer Service something you can actually not care to understand?
Let's start with some questions about your Customer Satisfaction Area:
Do you have someone who is in charge of Customer Advocacy? IF not why not?
What is your complaint management process?
How do you ensure that complaints are resolved effectively and promptly?
How are complaints aggregated and analyzed for use in improvement? (Specifically how do you use other indicators such as employee retention, absenteeism, grievances, safety and productivity to assess and improve employee well-being, satisfaction and motivation?)
How are you doing in Customer Satisfaction?
Where is your Customer Service Data?
What is your Customer Service Tracking Process?
There are two sources for complaints
Internal – Employees
External – Customers
Both are equally important and both need a tracking process.
Here are the three types of complaints you should be tracking: Call in Complaints, Distributed Complaints and Internal Complaints.
Both should follow a similar tracking pattern.
Call in Complaints require:
Indentifying someone to be the complaint owner.
Logging the complaint
Make sure to send it to the right person to resolve the complaint.
Following up with the complainant.

Here's what we did
Does that solve your problem? (Very few companies do this. It will BLOW your customers away when you do!)
Analyze the cause of the problem. (Intention is always to prevent it from happening again. Make sure you don't do it again – PREVENTION)
FIX THE PROBLEM
Distributed Complaints (COMPLAINT GATHERED WHEN OUT IN THE FIELD)
Issue complaint note pads so your people can gather complaints in an organized and systematic fashion. Create a process and policy to make it easy to report complaints.
Make sure the complaints are written down on this note pad when it happens.
Collect these at somewhere at your office (box)
Analyze the complaints.
Internal Complaints
Identify the complaint owner.
Log the complaint
Send it to the right person
Follow up call. (Once again few companies do this. Internally or externally whoever you call will be impressed you got back to them. On Saturday afternoon I received a call from a complaint I'd made from a carryout order on Mother's Day at Red Robin. Jeff the manager was apologetic, didn't understand how the two Whiskey River Burgers we'd received didn't have BBQ sauce on them, but planned to review their process since it has two checkpoints to prevent this. Possibly the order got put in wrong. Regardless he said he was sorry and offered to fix it and plans to send a couple of burger coupons out. That's following up and fixing the process! Congratulations to Jeff and Red Robins, 4625 First Ave. S.E. Cedar Rapids, IA 52402 – That's real customer service and satisfaction!)
Analyze the call
Fix the process (Remember five out of six times this is a process problem not a people problem. Fix the process and you've generally solved it.)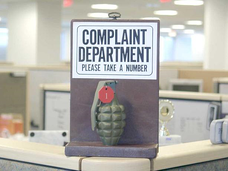 In Summary, if you're not tracking complaints problems will continue to reoccur losing customer loyalty, your customers are telling others, worst of all you're losing money. If you beat up your employees for giving you complaints you lose the process entirely. They will simply not report complaints because they will know that in doing so they will be reprimanded or chastised. You won't get complaints. Instead reward your employees when they bring you complaints. Make sure you make them feel recognized for providing them. You need to have one person who is the central owner.
Having a customer advocacy person should be a requirement for every company today! Make it easy for your customers (internal and external) to complain. Make sure your customers know how and where they can register their complaints. Make it obvious! Ensure there's a payoff for making complaints. Here's how we fixed your complaint. Get back to your customers that the issues been resolved and thank them! Close the loop and you will stop losing money. Always make sure you are tracking complaints. Complaints are a key indicator of loyalty and satisfaction. The key here is that in tracking your complaints you should see the frequency and the type of complaints being reduced and more importantly prevented. That's the progress you are looking for.
Special thanks on this blog to Mike Schulte, Dudley Fleck and Neil Mathias, Fleck Sales for allowing me to access Beer Campus, their portal from Miller Coors that has some outstanding customer service training tools. A great deal of the information is from the Criteria for Performance Excellence, the Baldrige Criteria for Performance Excellence empowers your organization—no matter the size or industry—to reach your goals; improve results; and become more competitive by aligning your plans, processes, decisions, people, actions, and results.
Customer Service starts with your employees. A recent article from Gallup, the Q12 Employee Engagement Experts suggests that you can take these Q12 questions and apply them to a specific problem. This morning that's precisely what we did in a weekly meeting with one of my clients. I'll refer to that article and our experience on how to use Employee Engagement questions to a specific issue next blog.