What's you reason to gather customer feedback?
You are collecting customer feedback aren't you?
Fred Reichheld in The Ultimate Question and Ultimate Question 2.0 points out too frequently gathering customer feedback is not centered on the customer. It's about getting research for the company. It's marketing more than Customer Service rather than discovery of customer satisfaction levels.
Why else would we do it Doug? Exactly. However the issue here is when we are so consumed with what we want we don't get meaningful feedback from the customer. When customer feedback and surveys are done wrong you alienate your customer, risk losing their continued loyalty, and worse appear insensitive. Customer Service focus should be on how we can improve and increase customer loyalty.
How many times have you received a survey or request for customer feedback and simply not completed it? Probably for many of the same reasons people don't complain posted inCustomer Service Improvement Starts Here.
Your customers should be revered, honored, served. Certainly not seen as just a resource to tap into to collect information on how you are doing. How much good does it do you to get bad information? No information? When you make long surveys to discover your needs you quickly discover that the feedback you are getting isn't very good. With bad information you may quickly decide to simply give up.
Here's an example of a survey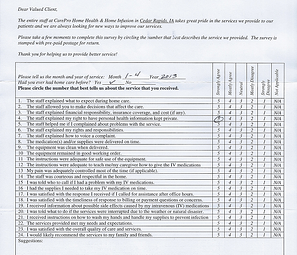 I recently received from a health care provider who had been coming to my home every week to dress and change my PIC line. There are 24 questions each with 6 options to choose. I started completing it and felt there were too many questions and options to simply respond to. How long would this have taken me? I felt I could use my time more wisely. I felt as if I was being used for their purposes and not really to find out how I felt about their care services. That's probably what turned me off the most. It was about them not me.
This despite the fact I had a wonderful care giver who was professional, courteous, engaging, empathetic and delightful to work with. I would have loved to tell them about her and how excellent she was.
As you can see the letter is not personal either. Dear Valued Client. (In this age with technology shouldn't most companies have the names of their customers?) When you review the questions it's easy to determine that these questions are not about me as a customer as much as making sure their staff is following their guidelines and policies.
Questions like these seem self-serving and presented for their point of view:
The staff explained what to expect during home health care.

The staff explained my rights and responsibilities

The staff explained how to voice a complaint.
The questions might have been better worded simply by including the patient in the mix:
Do you feel you knew what to expect from your care giver for your home health care?

How confident were you in your rights and responsibilities with our staff?

If you had a complaint during this time did you know who, where and how to address it appropriately?
How do you feel about my rewording of these questions? Do you feel I'm being overly sensitive about their approach?
Time is a factor in receiving any customer feedback. Fred Reichheld's Ultimate Question is really 2 and one half questions. The half is to discover whether the person is willing to speak to someone if a problem is occurring. The first two questions are simple: what's you're likely hood of recommending us to a colleague or friend on a scale of 0-10, and why did you give us this answer.
Customer and Employee Feedback is a discipline portion of each Positioning System Strategic Discipline weekly meeting rhythm. We need to understand that we have two customers, internal and external. Each can be extremely good sources for customer feedback.
If your business is in a position where you are regularly in contact with your customers here's an idea that can get you feedback each week. Chose a question of the week to ask your customers. Have everybody in contact with your customers ask. Write the answer down. You'll want to vary the day and type of accounts you ask.
The positive from this is you're collecting 52 pieces of data. Using a 0-10 or 1-5 scale you'll get qualitative answers. It's cheap, easy, flexible and continuous. You'll immediately get your people focused on customer satisfaction. Is that happening now? Plus by being consistent your customers will begin to expect it. They'll realize you're listening and be more eager to give you feedback. The system can be automated (Survey Monkey?), satisfaction focused, and as noted get great customer involvement.
Be aware there are some cons to this approach. It will take time, and certainly some of your employees may rebel against doing it (Is your leadership commitment strong enough to get them to make this effort?), no follow up questions, results are spread out, it's informal (and by your people asking it is not objective), not anonymous, and part of the whole population (versus dedicated to one group or specific issue).
Make sure you close the loop – which is the reason for meeting rhythms and the cadence of accountability. Collect the data.
Are complaints good or bad? Let's explore as we continue discussing customer service next blog.