Discovered a great customer experience recently?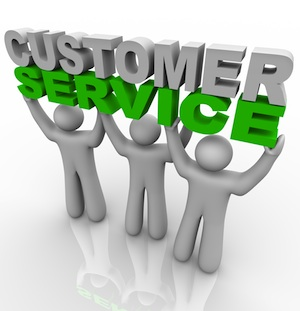 When and how were you sure?
In many cases it starts immediately. It could be the ease of moving around on a website, a smile, a welcome at a restaurant, a warm greeting on the phone.
It's about attitude isn't it?
Exceptional Customer Service starts with your PEOPLE!
Does that surprise you?
How can you provide great customer service if your people aren't engaged and loving your company, the job they do, the products and services you sell and the way your culture and people are managed?
If you can't or refuse to get your arms around this subject of employee engagement I suggest reading this article on Three Keys to Happy Employees.
One of the companies I'm working with is intent on reaching the highest standard in their industry for customer service. They immediately got the idea of why engaging employees is so important. Embarking on this mission they chose to utilize Gallup's Q12 to get a benchmark on where they are now. They are able to identify reaction and issues needed to be addressed to improve employee engagement. The results were reviewed at their monthly meeting. While the average scores were high, typically much higher than a first time result there were several scores that were low for specific team members.
How important is customer service to your business? The Ultimate Question 2.0 offers great insight on how companies with great service become industry leaders. Loyalty Leaders grow 2.6 times their competitors.
Here's some disappointing numbers to understand why you need to attack customer service first from your employee engagement function.
For every one complaint you receive 10-25 don't complain.
Dissatisfied customers tell 8-16 others.
91% of dissatisfied customers never return.
The good news is that if you solve a customer complaint quickly 85% become repeat customers. That's why it's so crucial to get your team engaged to resolve customer complaints.
Are you asking yourself why don't people complain?
Here are some reasons:
Low Standards: We don't expect much from our customer experiences anymore.
No time: It requires time to complain. Who of us is willing to take the time, especially based on the rest of these subsequent reasons?
No faith: If we complain will someone really do something, and what will they actually do. Is it worth it?
No target: Who do we take our complaint to for results we seek?
Won't help: Even if someone listens will it do any good?
Too late: Already suffered and the outcome cannot be reversed on a spoiled experience.
Self-punishment: Complaining isn't fun. Often times we get the third degree, defensiveness and it ends up being an exercise in futility because target doesn't care or can't do anything to improve or fix the situation.
Gallup just last week released an article on Applying Employee Engagement to a Specific Business Problem. If you would like to make a step up in your customer service area consider reading this article for ideas on how one manager got his team engaged on an upcoming store renovation. If you can use these principles for this you can certainly use them to improve customer service. You need to get three people on board in the customer service process. Happy, purposeful employees and leaders and finally your customers. You must absolutely be measuring customer dissatisfaction.
You can poison or nurture customers, and poor employee engagement is at the root of your problem.
Can employee engagement be improved? That's the wonderful thing about the 12 Questions. They provide a basis to identify where issues are, and the resulting behaviors you need to deliver improved engagement can be almost intuitive. If you simply concentrate on improving one strength area and one weakness area a quarter you will see improvement in the results of your next survey. The important thing is to see the results in your people's performance.
Here's an example of one of my clients improvement from 18+ months ago to now.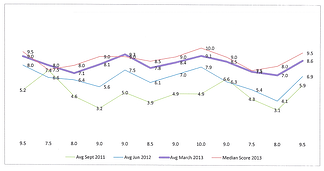 When initiated scores were in the 3- 7.4 range, most decidedly lower. Since then the numbers have risen to where they now average in the 7.1 to 9.1 range. That's a significant increase in
employee engagement. What do you feel it means to their business?
It's no surprise they had a record year last year and they find the ease and efficiency of getting things done is increasingly improving.
Recently I received a survey from a health care provider regarding their services. I was delighted with the care I received from the provider that came to my home and would have liked to have revealed that. The survey was long, hard to fill out, and time consuming. It's another example of a company "not getting it!" We'll explore this next blog.