What's the problem with discipline? Repeatedly in this blog and in the works of Jim Collins in Good to Great, Great by Choice, How the Mighty Fal, Patrick Lencioni's The Advantage, The Four Disciplines of Execution, and many other best practice and top thought leadership books we hear the principles of discipline continuously cited as critical to reaching success.
So why aren't you practicing discipline? Are you unaware of the value of discipline? Is it hard to harness exactly what discipline is and then act upon it?
If you're unsure what discipline is we suggest you get a firm grasp of it by downloading the Rockefeller Habits Checklist?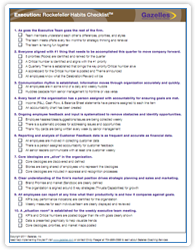 I recall one group of executives who I presented the Two Day Rockefeller Habits Workshop to rebelling against these set of disciplines as only what John D Rockefeller used and that they were not necessarily proven disciplines that should apply to their business.
Was this an attempt to dispute the value of them or rather an attempt to escape having to follow them?
If I were to go back to that moment I would unleash a host of reasons why they must follow these disciplines. Why they were not currently achieving their potential and success they deserve due their ignorance of the impact of discipline. Their fear of discipline held them back from success.
This leadership team wanted their independence. They didn't realize how a set of disciplines followed routinely would provide them with more success than they were presently enjoying. They failed to recognize the fundamental principle that discipline when practiced effectively leads to more freedom and choices.
What's your reason for not placing more discipline in your business? I would suggest that it is not because your people would rebel. Once put in place almost everyone enjoys and sees the value of discipline. The problem with putting more discipline in your business is you. You either don't believe in it or you are undisciplined and don't wish to have discipline encumbering your style of life, leadership and management. It's not about anyone but you.
What issue than is it? If it's a failure to believe in the value of discipline, read about it. Read Jim Collins books. Call Positioning Systems to engage in a discussion on the power of discipline and what we see our clients achieve.
If it's simple laziness and a fear of losing yourself in routines, I submit you may still need to take the first step and read about the value discipline provides. Or you simply need to begin disciplined activities to learn how it can dramatically change your life and provide you with more freedom and options.
Great by Choice is sprinkled with a number of quotes. One of my favorites, "Freely chosen, discipline is absolute freedom." by Ron Serino. Of course Jim Collins through his research and writing discovered, "Greatness is not a function of circumstance. Greatness, it turns out, is largely a matter of conscious choice, and discipline"
By failing to recognize the power and impact of discipline in your business you are making a conscious choice to be mediocre. Is that truly what you want?
Please view the video of Alan Rudy and his discovery of the value the Rockefeller Habits Checklist provides. If you wish to discover the level of discipline within your organization, have Positioning Systems help with our on-line form you and your team can fill out to collect your scores. We'll send the results and average of your team to you. Send Positioning Systems an email with the name of your company, the number of team members who plan to participate. We'll send you the Internet link to visit to score your results. When completed we'll keep your results confidential and send you everyone's individual score and the average score for your company.
Are you uncertain about your company and industries future? Do you live in fear that circumstances beyond your control could capsize all the energy, work, and planning you've done to build your business? Take heart. It's precisely why Collins wrote Great by Choice. Will explore some of the returns 10Xers (Company's from Great by Choice who thrived in uncertainty) delivered to help you realize the impact discipline can have on your business, and how they were able to navigate through challenging times. Top of the list will be Southwest Airlines.