In Top Ten Elements to Drive Business Growth - 4-3-2-1 Formula we provided Four Decisions, Three Disciplines, Two Drivers and One Catalyst as the keys to grow your small to mid-sized business. The 4 Disciplines of Execution: Achieving Your Wildly Important Goals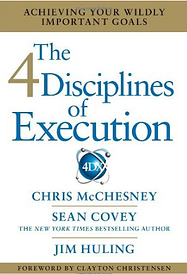 by Chris McChesney, Sean Covey, Jim Huling suggests there are Four Disciplines and supports this with examples and evidence of companies who have achieved success following these four disciplines.
Before examining their four disciplines let me acknowledge they're correct. In fact their four disciplines are very similar if not exactly the same as what Positioning Systems recommends in Strategic Discipline. The difference is how they define metrics, which in Four Disciplines of Execution is broken down into two; keeping score and making sure you're measuring leading indicators. In Strategic Discipline we combine these two elements into one: Metrics.
Regardless of whether you break the Disciplines of Execution into three or four, it's important to understand the fundamental capacity these steps have for helping you achieve your priorities, or as the authors call them, Wildly Important Goals (WIGS). In fact Positioning Systems added a Discipline, Work Process Flow Charts, which identify the 4-7 most crucial systems in your business.
The key here is to realize that in order to execute properly you need to have discipline.
Let's look at the 4 Disciplines of Execution by Chris McChesney, Sean Covey, and Jim Huling: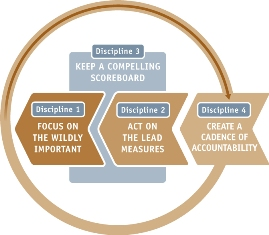 Discipline 1: Focus on the wildly important requires you to go against your basic wiring as a leader and focus on less so that your team can achieve more. When you implement Discipline 1 you start by selecting one (or, at the most, two) extremely important goals, instead of trying to significantly improve everything all at once. We call this a wildly important goal (WIG) to make it clear to the team that this is the goal that matters. Discipline 1 is the discipline of focus. Without it, you will never get the results you want. It's also only the beginning.
Discipline 2: Act on the Lead Measures This is the discipline of leverage. It's based on the simple principle that all actions are not created equal. Some actions have more impact than others when reaching for a goal. And it is those that you want to identify and act on if you want to reach your goal. Whatever strategy you're pursuing, your progress and your success will be based on two kinds of measures: lag and lead.
Discipline 3: Keep a Compelling Scoreboard People play differently when they're keeping score. If you doubt this, watch any group of teenagers playing basketball and see how the game changes the minute scorekeeping begins. However, the truth of this statement is more clearly revealed by a change in emphasis: People play differently when they are keeping score. It's not about you keeping score for them. Discipline 3 is the discipline of engagement. In principle, the highest level of performance always comes from people who are emotionally engaged and the highest level of engagement comes from knowing the score—that is, if people know whether they are winning or losing. It's that simple.
Discipline 4: Create a Cadence of Accountability Discipline 4 is where execution really happens. The first three disciplines set up the game, but until you apply Discipline 4, your team isn't in the game. It is based on the principle of accountability: that unless we consistently hold each other accountable, the goal naturally disintegrates in the whirlwind. The cadence of accountability is a rhythm of regular and frequent meetings of any team that owns a wildly important goal. These meetings happen at least weekly and ideally last no more than twenty to thirty minutes. In that brief time, team members hold each other accountable for producing results, despite the whirlwind.
We've long exhorted the concept from Verne Harnish's Mastering the Rockefeller Habits, "A company with too many priorities has no priorities." And as Jim Collins preaches from Good to Great, "A culture of discipline is not a principle of business; it is a principle of greatness." As well as, "Greatness is not a function of circumstance. Greatness, it turns out, is largely a matter of conscious choice, and discipline"
As you prepare for 2013 it is well that you remember these quotes as well as the 3 or 4 disciplines of execution. Look back at your past year. How many of the priorities or Wildly Important Goals you and your team set did you achieve? If you failed can you see the seeds of your failure in not following these fundamental disciplines? Imagine how 2013 can be different by following them.
Based on the authors Chris McChesney, Sean Covey, Jim Huling making lead indicators a separate discipline let's review this as well as what a catalyst is in our 4-3-2-1 success formula in our next blogs.