Most businesses have some solid metrics in place to monitor their Process/Productivity Drivers. Productivity/Process Drivers include Make/Buy, Sell, and Recordkeeping. This blog will focus on Process/Productivity Drivers and the need to set Critical Numbers to balance this driver against your People/Relationship Drivers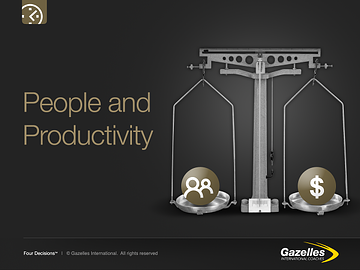 in your business.
Here's a critical point about developing metrics for the two Drivers. It's best to put your metrics in a ratio of two to one, leading indicators versus lagging indicators. In Process/Productivity Drivers if you have a make/buy metric for your business, two of these should be leading, and one lagging?
Why you ask? Because the best metrics are leading indicators. The 4 Disciplines of Execution by Chris McChesney, Sean Covey, Jim Huling, offers great reasons why leading indicators are so valuable.
Here's the distinction between lagging and leading indicators. A lag measure is the measurement of a result you are trying to achieve. They are called lag measures because by the time you get the data the result has already happened; they are always lagging.
Here's their definition from the book. Lead measures are different; they foretell the result. They have two primary characteristics. First, a lead measure is predictive, meaning that if the lead measure changes, you can predict that the lag measure also will change. Second, a lead measure is influenceable; it can be directly influenced by the team. That is, the team can make a lead measure happen without a significant dependence on another team.
Based on this wouldn't you want to make sure you have lead measures in place each quarter and year to predict how you are doing?
Let's look at each of the three elements of Process/Productivity Drivers. Make/Buy is simply the production activity of your business. If you're a manufacturer these are the metrics you gauge production activity on. It could be units per hour, units per person, simply units produced and number of rejects. If you're buying your inventory then it could be an array of possible metrics you measure based on inventory in house, to inventory delivered, for example case units delivered.
Sell seems pretty obvious, however there are lots of measures for selling. In some cases you may measure items sold, items returned. These would be lagging indicators. Leads to your website, prospects contacted by sales people, and where they are in the pipeline are leading measures that are predictive and can be influenced by your sales team. These are much more valuable to make sure you included in your Key Performance Indicators.
Recordkeeping can be a number of measures as well. Most often they reflect the balance sheet or income statement. Is there a timeline for this information being received? If there is, is it being achieved. What record keeping numbers are important? Are we on budget, what's are gross margin, profit margin, or personnel expenses? Each business has a set of critical numbers that determines profitability. These should have the highest visibility, recognizing that leading measures predict outcomes.
The truth here is that most of us are simply better at setting Process/Productivity indicators than we are at People/Relationship Driver indicators. The nature of most of us is to concentrate on production, sales, and these metrics are always easier to measure. Yet in many cases the metrics we may be measuring, particularly if they are lagging indicators have very little value in navigating the business. Lagging indicators appear too late.
Another source of dysfunction could be whether we are measuring the right things? Ask yourself if these are industry standards? Have you determined your Profit per X, a critical number that Jim Collins discussed in Good to Great? Michael Gerber noted, "You can't manage what you don't measure, and what you don't measure you don't understand." It's absolutely critical that you are measuring the right stuff.
It's important you determine not only the critical Make/Buy, Sell and Recordkeeping indicators to measure, but yalso these measures need to be a 2-1 ratio of leading to lagging indicators. Otherwise even if you get the metrics you won't be able to do much about them.
If you have questions about the Two Drivers, Process/Productivity and People/Relationships send me an email with your question.
As noted earlier I've been reading the book The 4 Disciplines of Execution by Chris McChesney, Sean Covey, Jim Huling. It's provided some wonderful examples of best practices and why these are absolutely necessary to execute your strategy. Their four disciplines are actually and expanded version of Strategic Discipline which Positioning Systems asks our clients to execute. We'll review these Four Disciplines and how they compare to Strategic Discipline next blog.