All customers are not created equal. That's one part of the message in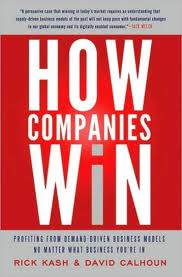 How Companies Win: Profiting from Demand-Driven Business Models No Matter What Business You're In, by authors Rick Kash, David Calhoun. With some customers being more valuable than others it's important to discover which are, and also to be aware of how your market is changing to understand latent, and emerging demands. The world has already changed to a demand driven economy. In order to be in the forefront and capitalize and even survive your business will require a higher level understanding of your customers and how to market to them.
This requires that your business constantly collects customer feedback.
Based on the book, here are the ways DIFFERENTIATED DEMAND can benefit your business into a single integrated framework:
Find the high-profit consumers who can raise your margins and revenues
Understand current, latent, and emerging demand
Determine which channels are growing and which channels are slowing
Assess where your competitors are strong and where they are weakest
Understand the media habits of your most important consumers
Identify the best potential opportunities for innovation
Build a financial model for resource allocation to drive faster growth
Develop insights about the demand of your most profitable customers that your competitors don't know
In order to accomplish this you must have a habit of capturing customer data and feedback. Do you have someone in the position of Customer Advocacy? Are your weekly meetings about collecting and discussing your customer information and feedback? Do you have a measurement in place that captures customer satisfaction levels like the Net Promoter Score? Is the person that collects that information objective and not connected to the operations or sales and marketing department so as not to prejudice this data and make sure it's presented as the unvarnished truth?
Strategic Discipline provides the priorities, meeting rhythms and metrics to establish your differentiated demand. You need to recognize the importance of how the demand based economy is changing your business. That requires planning and shaping your future. The One Page Strategic Plan, Annual and Quarterly Planning are an important part of developing the Demand Economy mindset.
In Three Reasons You Need the One Page Strategic Plan we described why the One Page Strategic Plan is a solid strategic planning device for your business to help you become and remain competitive:
Provides a framework that identifies the key elements of your strategy and supports these.
Provides a common language in which your strategy is expressed. (Everyone is aware of the key elements of your strategy.
Provides a well-developed habit to use this framework and language so you continually evaluate your strategic progress.
Strategic Discipline is the well-developed habit that will catapult your business to achieve its strategy. Developing a consistent approach to determining your priorities, Focusing on Your One Thing, establishing metrics Key Performance Indicators) to track your achievements and finally establishing meeting rhythms to help you make the best decisions about your present and future gives you predictable tools to chart your course for business success.
Is it time you focused your business on demand based economy? Is it time you got your business to achieve predictability in the outcomes you expect? Make a date now to plan your Annual Meeting for 2013 to assure you are planning for the future and including your management team in discussions on where the company is headed and what obstacles it needs to overcome. Remember Strategy and Planning are two different aspects of your 3-5 year plan. A discussion on demand based economy should be a part of any discussion you have this year on strategy.
We've discussed accountability as the biggest issue facing business today. One of my business friends asked for a tool to help him keep his reporting team accountable. We'll look at and discuss this tool in my next blog.