My Wednesday biopsy results and most recent blog Four Purposes for Quarterly Meetings reminded me of the importance of good news and positive reinforcement in building a growing business culture. Recognizing accomplishments achieved at Quarterly Planning Meetings is just one step in the meeting rhythm cycle that offers good news and positive impact on your team. Daily Huddles include opportunities for every one of your staff to report on victories they've achieved each day.
Weekly Meetings begin with the first agenda item being good news.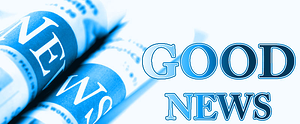 The Good News portion of the agenda is intended to be both a personal as well as business related story of good news. The reason for a personal and business good news report is discussed in Accountability Starts With Trust. It's part of Patrick Lencioni's fundaments for getting results in The Five Dysfunctions of a Team as well as the key to building organizational health described in The Advantage.
Ask yourself how positive is your work environment? Are people consistently provided positive feedback and reinforcement? Is there a structured environment where success is rewarded and recognized? IF you're not offering opportunities to recognize your staff's accomplishments is it surprising your work culture is not as proficient and happy as it could be?
Strategic Discipline encourages and demands the establishment of meeting rhythms. The meeting rhythms described above offer daily, weekly and monthly opportunities for victories, accomplishment and even personal stories for pride to be revealed and appreciation regularly occur.
I'm happy to report that my latest biopsy results provided strong indications that my transplant is moving ahead successfully. The bone marrow mass is low (30%) where normal would be in the 50-70% range, however due to the length of time since my transplant that is expected. Two other critical indicators that showed up extremely well are the portion of my bone marrow which is now my donor's blood. That reading is 97-98%. In addition "the frequency of nuclie with a Monosomy 7 signal pattern is .7% which is within the normal range (2.0) which his associated with AML.
All the remaining numbers for blood counts continue to increase with the exception of magnesium. That's one number that is continuing to require me to go to the clinic and get regular infusions. From what the doctor indicated I can expect that this might continue for another 2 months until they can reduce one of my medications since it reduces my magnesium level.
It would be foolish for me to believe that I'm suddenly completely recovered. The doctors won't make that full remission offering until I've passed the two year mark from my transplant. I plan to remain vigilant to the Stockdale Paradox. My appetite has not returned, and for those of you who are familiar with chemotherapy you will no doubt remember the metallic taste that remains in your mouth after eating and otherwise that is challenging to live with. I have some tingling and numbness in my toes, lost a good deal of weight and have some periods of tiredness. There is plenty to remind me that I'm not out of the woods just yet.
Still I feel like each day is a bit better. A respiratory infection still limits me from doing too much exercise which I feel would help my mental and physical health. That appears to be improving slowly. Despite my blood counts increasing, they are still not to the full normal range that each of you enjoy.
I'm grateful and appreciative where I am and what I've been able to overcome. That frankly is due in a large part to the significant support, prayers, and encouragement I've received from so many of you who read this blog.
Patrick Lencioni in (The Five Dysfunctions of a Team: A Leadership Fable states: "If you could get all the people in an organization rowing in the same direction, you could dominate any industry, in any market, against any competition, at any time." That's a testament to the support you've provided me as well as what I believe is possible to accomplish within your business. I'd like to explore that next blog along with an example from one of my clients on what is possible if you get all your oars moving in the same direction.