Learning, Growing and Planning. It's a crucial element of our Gazelles business coaching practices. Companies that continue to grow look at education, training and learning as a competitive advantage.
Did you realize we've moved from a supply driven economy to a demand driven economy?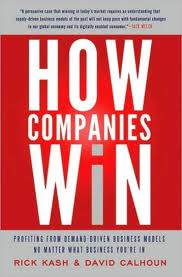 This movement is the subject of a book, How Companies Win: Profiting from Demand-Driven Business Models No Matter What Business You're In, by authors Rick Kash, David Calhoun who identified this movement as early as 2002. The vital difference this makes in your business can not be underestimated. It's one reason why Kash, Vice-Chairman, Nielsen, will be one of the speakers at the Fortune Growth Summit in Phoenix October 23-24th.
As Gazelles coaches we recommend you consistently continue to learn and grow. Attending one of or both of our Growth Summits each year can be the equivalent of reading a dozen of the best-selling business books to can increase your knowledge and insight into the trends and best practices that can help stimulate dramatic growth for your business.
So what's going on in terms of supply driven to demand driven economy? Quoting from the book, "Apple, Amazon, Facebook, Twitter, and Google, don't focus nearly as much on distribution channels. Instead, their businesses are built around consumption models, and their single-minded focus is on building relationships to their family of consumers to earn their trust, to expand their role in their consumers' lives, and to enlist them in everything from product design to service. These twenty-first-century enterprises are as focused on constantly improving their levels of trust with their customers and consumers as they are on the degrees of efficiency of supply."
Let's look at an example of a major company that has been affected by this demand driven movement and how they managed to take advantage of it.
In the mid 1990's to 2002 McDonald's Corporation, one of the most successful and influential companies of all time, lost its way choosing to focus almost exclusively on supply. It built more restaurants, acquired other food chains, all at the expense of what it millions of customers really wanted. Only when McDonalds went back to paying attention to its customers did they find their way back to success.
In 2002 McDonald's suffered its first quarterly loss since 1954, ending a celebrated half-century of continual growth. And the bad news kept coming: even as profits disappeared and revenues flattened, consumer satisfaction levels fell below that of the company's major competitors. The book Fast Food Nation in 2001 singled out McDonald's as contributing to America's health and obesity problems.
The company scrambled to uncover what had gone wrong. In McDonald's headlong rush to become bigger, to dominate the global market, it had lost track of its parallel need to also become better at understanding consumers' latent and emerging demand.
The company had been opening an average of 2,000 stores per year for a decade, yet all of that expansion was producing no new incremental income growth. This indicated a base of overbuilding—a fact underscored by the growing anger of veteran franchisees, who complained of new stores taking away their business.
McDonald's realized it needed to revisit its entire product offering in order to keep up with the changing tastes of the public.
McDonald's began 2003 embarking on one of the most remarkable restructurings in modern business history. One of the world's most successful and admired companies would realign to the current, latent, and emerging demands of its customers.
The first step, McDonald's realized, was to get back to what it did best. That meant stripping away all of the noncore businesses, divesting itself of the Boston Market chain, Chipotle Mexican food, and a host of specialty and experimental restaurants around the world. The new mind-set at McDonald's would shift from growing through new stores to doing better at existing storefronts.
McDonald's called it "Plan to Win" focused on five components: Improve Quality. Improve Cleanliness. Improve Service. Improve Value. Improve Marketing.
The result? After hitting bottom in 2002, McDonald's revenues and income both returned to their historic upward march, even during a growing recession. Average sale went from $5 to $12. Since 2004, McDonald's total sales have increased from $50.8 billion to $72.3 billion in 2009, a jump of more than 42 percent. Meanwhile, net income has increased by 96 percent, from $2.3 billion to $4.5 billion, during the same period.
The single most important lesson to take away from McDonald's remarkable turnaround is this: In a world where supply is growing ever more efficient while demand is flattening or even contracting, understanding demand becomes the new imperative for how companies will compete and win.
Concerned with this supply to demand movement? I urge you to consider picking up a copy of the book: How Companies Win: Profiting from Demand-Driven Business Models No Matter What Business You're In.
The three goals of this book: 1) to help you understand the forces behind the shift from a supply-driven to a demand-driven economy; 2) to help you develop the business strategies required by that shift; and 3) to provide you with the tools for executing that shift.
It's a must read for anyone who finds their business in dwindling demand with the need to develop a strategy that provides growth for the future.