Positioning Systems Strategic Discipline is the fundamental principle we work with small to mid-size businesses to help them achieve growth and alignment with the Rockefeller Habits Four Decisions of People, Strategy, Execution and Cash.

When I discovered my health issues with AML in late February I decided to apply these same disciplines to my health situation. I set new priorities, establishing a dashboard with metrics to monitor and meet these priorities and then set up meeting rhythms with my clinics and doctors to assure I would stay on track.
To update you on my health I thought I would walk you through the dashboard I'd created for my top priority (Successfully Cured of Cancer) and then the metrics and meeting rhythms that I've established to meet them.
For those of you reading this blog for the first time or unaware of my illness here's a quick update. On February 25th I was diagnosed with Acute Myeloid Leukemia. The prognosis wasn't good, and it became more concerning when it was discovered I had a rare form of the disease Monosomy 7. After six chemotherapy treatments with still no substantial reduction in my leukemia cells, the University of Iowa Hospital and my doctor, Dr Carter, turned almost in desperation to a clinical trial. It was the only alternative to moving to another hospital.
This worst of my ordeal I outlined in The Patience Lesson Continues – Stockdale Paradox. Through some miracle the clinical trial worked, even though the treatment I received was not the recommended trial chemotherapy. The chemotherapy my doctor, Dr Thomas Carter, prescribed as an alternative reduced my leukemia cells from 31% of my blood down to less than 2-3%. Faith, Quantum Physics, and Stockdale Paradox describes the miraculous turn of events and my feelings about it.
Through the graces of a wonderful selfless donor I received my bone marrow transplant on September 5th. The chemotherapy ahead of the transplant and the recovery time for this has been more difficult than any of the six chemotherapies I've had previously. It's been challenging to handle the unsettled stomach, nausea, frequent lethargy and many other minor issues that are too difficult to describe that accompany transplant procedures. The doctors have told me expect up to a year before you feel yourself.
The good news is that while I was told to expect to be in the hospital from 4-5 weeks following the transplant I was released in just 16 days! Another bone marrow biopsy was performed yesterday so I'll know more about my recovery in a week. A lingering respiratory infection is about the only negative to report, and as the nurse and doctor told me yesterday all my counts (metrics will look at in a moment) are looking very good.
So how did I achieve this so far through following Strategic Discipline? Let's examine each element:

Priorities: Top Priority, my number one thing starting in February was get my cancer in remission. The dashboard here represensts my Number One Priority for the Third Quarter. Since reaching remission in August, my fourth quarter priority is now focused on having a successful transplant. At the top of the list of metrics to measure is daily meditation. The combination of meditation, faith, prayers and client meetings had what I believe is the greatest impact on getting my leukemia into remission. It would be foolish not to continue these practices. I also included researching other avenues for a cure, including holistic methods, and vitamin C treatments. Walking daily was also an important ingredient in this priority. Finally my last subjective measurement was to maintain a positive attitude and live the Stockdale Paradox.
Metrics: My doctor and nurses quickly made me aware of the critical numbers (KPI) that I needed to monitor for my health. These included my White Blood Cell, hemoglobin and platelet counts. Of course I also measured my meditation days; made sure I researched other avenues for cancer cure several times a week, and measured my attitude subjectively each day and sometimes each hour to make sure I continued to remain optimistic. Key Performance Indicators are the measures to keep you informed on how well you are progressing on your priorities. It wasn't always cheerful to see my numbers especially the reports from the bone marrow biopsies. Yet these are absolutely vital to face the brutal facts and recognize what decisions may lay ahead if these facts remain.
Meeting Rhythms: In the hospital the meeting rhythms were automatic and frequent. Okay too frequent! Every four hours a nurse would check my vital signs (blood pressure, pulse, oxygen level and temperature), and yes that was day and night. Every day I would get a visit from the Physician assistant to my doctor to check my breathing, ask how I was feeling and capture any significant change in my health. My doctor would visit too, although not every day. Some of these meetings brought good news (I could be leaving the hospital or my recent biopsy had provided some hope), while others brought disappointing news (health diminishing, pneumonia, or poor results from my biopsy). They were routine, often covering the same details, yet critical to help me know what was going on and what course of action I needed to follow.
Currently my meeting rhythms include a weekly meeting with my Transplant doctor, Dr. Silverman on Wednesday at University of Iowa Hospital and a minimum of two clinic meetings (Monday and Friday right now) to check on my blood counts and get infusions if necessary. As an example on Monday I needed to receive 4 mg/dl of magnesium since my count was not at the level desired.
These meetings can take from one to six hours depending on tests, infusion and doctor's time involved.
That's my personal journey. Of course it's not finished. I'm hoping to reach the recovery stage where I can get out and again begin meeting clients in person in the next three months. That's possibly aggressive. There are possible complications with my donor's blood which could still be down the road. I need to face those brutal facts and the reality of what might happen yet continue to hold the Stockdale Paradox, "Retain faith that you will prevail in the end, regardless of the difficulties, AND at the same time, confront the most brutal facts of your current reality, whatever they might be."
Strategic Discipline has helped me to place my Acute Myeloid Leukemia in remission.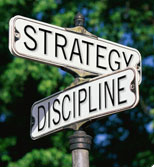 It's now helping me to work through the transplant process and achieve successful recovery to a life standard I expect to be better than what I previously experienced.
Strategic Discipline works because it offers the discipline all companies need. Focus on their priorities, develop Key Performance Indicators (metrics) to measure their progress, and follow a disciplined set of meeting rhythms to ensure communication is sent and received and good decisions are made in response to the success criteria that's been established.
Strategic Discipline is working in hundreds of successful growth companies internationally. I followed this process for myself because I knew the fundamentals worked and I wanted to make sure I recovered. Is it time you considered these disciplines for your business?