Discretion at the operating level of your business can absolutely destroy your business! When you fail to be consistent, customers come away with a different experience every time. This headline, "Eliminate Discretion at the Operating Level of Your Business" is a mantra from Michael Gerber's E-Myth, Why Most Small Businesses Don't Work and What to Do About It.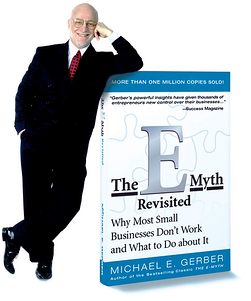 It is the principal of systems at its core. A starting point for systems take precedent over people. (See Topgrading - Was Michael Gerber Wrong)
In Verne Harnish's weekly newsletter he pointed to a story in the New Yorker, Big Med, written by Dr. Atul Gawande, author of one of my favorite book, Checklist Manifesto. The story is long (19 pages printed) and it provides a new appreciation for when to include or eliminate discretion based on the research Atul did on the Cheesecake Factory. It's also an indictment on how health care is provided today, which is a very scary proposition when you are in my situation.
How much discretion do you allow at the operating level of your business? Are their systems in place to ensure everything is done properly so the customer gets a consistent, reliable product or service each and every time?
In Zappos case, at the customer service level, discretion is an absolute requirement. Zappos focuses on hiring someone who are flexible and willing to bring their own personality to work. They have rules and policies, but a system for customer service is not part of their culture. On the opposite side of the coin is McDonald's Restaurants where one would admit discretion is limited.
How much discretion to include or eliminate pops up in Gawande's Big Med story with regard to the Cheesecake Factory.
Here's how Dr. Atul Gawande describes the discretion chef's at the Cheesecake Factory have in their system: Two things struck me. First, the instructions were precise about the ingredients and the objectives (the steak slices were to be a quarter of an inch thick, the presentation just so), but not about how to get there. The cook has to decide how much to salt and baste, how to sequence the onions and mushrooms and meat so they're done at the same time, how to swivel from grill to countertop and back, sprinkling a pinch of salt here, flipping a burger there, sending word to the fry cook for the asparagus tempura, all the while keeping an eye on the steak. In producing complicated food, there might be recipes, but there was also a substantial amount of what's called "tacit knowledge"—knowledge that has not been reduced to instructions.
The question is, which kind of business are you? What's your culture? If you allow more discretion, are you hiring the right people to support the level of discretion you are aiming for? If you have systems that eliminate discretion how solid are those systems in delivering a predictable, reliable customer satisfaction level each and every time? In either case do you measure your customer satisfaction with a metric like Net Promoter Score to assure you are achieving the result you desire?
In Good to Great Jim Collins puts people ahead of systems, in fact he puts people, "first who then what" ahead of even your product or service. Eliminating discretion at the operating level of your business may be an integral part of achieving a consistent, reliable product or service. The question remains is this part of a winning differentiating strategy for your business? Does it achieve a customer satisfaction rating that beats your competition? If not it may be time to re-analyze your culture and to determine what level of discretion at the operating level of your business is your best strategy to achieve your priorities.