Recently I've had a lot to be thankful for (See Faith, Quantum Physics, and Stockdale Paradox and Lack of Discipline: Workaholism – Good News/Bad News). I confess that there have been more than I few moments when I've broken down in tears sitting with my family or my wife simply because it feels so good to be home, to be with them and to know that the cancer that had been constantly challenging me is in remission.
There's a lot written on the value of appreciation, and the importance of recognizing your employees and leadership for the work they are doing. In fact giving appreciation is not only good for the person who receives it, it's also been found to be very impactful on improving the well-being of the person who provides it. It would be an understatement to suggest we provide adequate praise and recognition to our employees.
The question is how impactful and important is it to provide this? Is there something as important or impactful that provides more employee performance?
According to a Harvard Business Review article, What Really Motivates Workers the top motivator for workers is not recognition, rather its progress.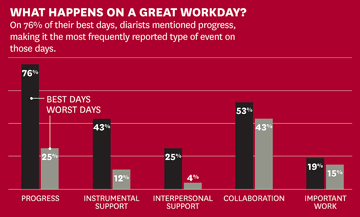 Does that adjust your thinking at all?
Does it suggest the value of Strategic Discipline can be more impactful on your business than you might have imagined? Strategic Discipline involves choosing priorities, (individual and company),determining metrics (developing dashboards to measure progress) and then developing meeting rhythms to regularly monitor the advancement of your team toward these metrics and priorities.
If you have some reservations about whether or not progress is that important you may wish to read What really motivates workers? Don't believe the Harvard Business Review. The author suggests that instead of progress, to really keep a team passionate and focused you need more than a satisfied team, you also need a team that's completely focussed on its goals. Clarity of purpose. That's where good ol' fashioned incentives can work wonders.
No argument here. That's exactly what identifying priorities, developing metrics (and dashboards to measure progress) and meeting rhythms are intended to achieve. Clarity of purpose is one of the keys to Organizational Health that Patrick Lencioni identifies in The Advantage.
How does your leadership team and employees feel about the progress they make each day?
I love quotes, and many years ago I had the good fortune to meet Ralph C. Stayer, author of The Flight of the Buffalo in person. He provided me with a lesson on employee motivation.
These words have stayed with me with regard to human behavior and improving performance, "There's a lot of words written in the past years about making work more fun and rewarding. Many pundits believe that if we can make people happy they will perform better. I started down that path years ago and concluded that just the reverse was true. I discovered that when people perform better, they are happier. My experience is that everyone wants to excel. Everyone enjoys winning. Everyone loves being part of a winning team. Winning reinforces itself. Everyone takes pride in his/her accomplishments. That is why most everyone loves sports. Sports give instant feedback on performance. We all share a deep desire for feedback on our performance. Harness this deep well of energy and commitment in your organization by helping people build systems that measure their performance against those things critical to success."
There's much to learn from this and I suggest when considering how to get improved performance from your people you remember the importance of clarity of purpose, progress and just as important the value of Pearsons Law.