It's difficult to describe the respect I have for Admiral Stockdale.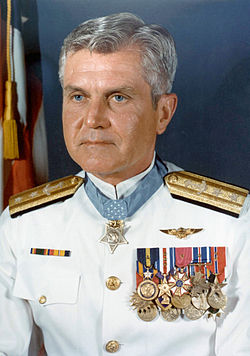 The torture he faced at the hands of the Vietnamese was incredible. Yesterday I received some more brutal facts about how things might look moving forward.
On the good news side of things my White Blood Cell count while down form a high of 7.6 is still doing well at 3.7. My Hemoglobin seems to be remaining steady at 8.8 and I've not had to have a transfusion in almost a week, plus my platelet count (helps clot my blood if cut) has risen from lows below ten several weeks ago to 99 today. All this indicates that my body is responding and producing to a pretty good degree of its own blood cells again.
Dr Link and my resident doctor, Charles Rappaport, stopped to reaffirm the plan that after the biopsy today I would most likely be sent home. More good news! The challenge ahead will be how the biopsy comes out and whether I'll be able to move quickly to transplant or if the cancer has returned that I will need to go through another round of chemo. I still need to get through this infection in my lungs, although the internal medicine doctor who stopped in yesterday said he'd probably not see me again, which is a good indication he said that I'll have beaten this.
Finally they performed a scan on my heart on Friday. Fortunately the results of that also came back positive. Any concern there might have prevented moving forward with the bone marrow transplant.
The reality is today will again be a big day for my biopsy. I expect to get the results on Thursday of this week. Fortunately I should be home this week, and I can't tell you how good that will feel.
If you think I've been through hell imagine Stockdale who was captured on September 9th, 1965 and not released until February 12th, 1973. His shoulders had been wrenched from their sockets, his leg shattered by angry villagers and a torturer, and his back broken. You can read more about his ordeal and continuous torture at James Stockdale Wikipedia.
What are you doing to get the brutal facts about the challenges your business is facing? Positioning Systems Strategic Discipline sets up meeting rhythms that are intended to provide customer and employee data in weekly and monthly meetings. This is an absolute rigorous discipline that you need to practice to take advantage of opportunities as well as prevent obstacles from averting your plans.
However despite the best meeting rhythms that require each leadership team member to reveal customer and employee data, it's equally important that your team feels they can trust each other and be vulnerable. This is a practice Patrick Lencioni describes in The Five Dysfunctions of a team and is ultimately one of the critical elements in building the Advantage and Organizational Health.
Just because you set up meeting rhythms to provide information on customer and employee data doesn't mean you are getting the unvarnished truth about what is happening with your customers and employees.
If you as the leader cannot be vulnerable you can't expect your leadership team to be either. You must always be the first one to admit your mistakes and not be afraid to face difficult situations even if it means communicating some uncertainty to your team. Trust begins with being vulnerable. Don't believe that pretending something may not be harmful or difficult will earn your leadership team's respect.
Remember this from the Stockdale Paradox, "This is a very important lesson. You must never confuse faith that you will prevail in the end—which you can never afford to lose—with the discipline to confront the most brutal facts of your current reality, whatever they might be."
Here's to confronting your challenges head on and facing the brutal facts. It takes tremendous courage to be vulnerable. If you feel you don't have the temperament to handle it I encourage you to read the story of Admiral Stockdale. It should inspire and encourage you to be vulnerable and be able to lead your team through any challenge.