If you've spent any time hiring and recruiting then you know that when you get a lot of candidates to sift through, disqualifying them can be a big time investment headache. Candidates that lie on their resume have reached appalling numbers, with even the top chap at Yahoo willing to deceive.
As a sales manager at a radio station and then through a progression of management positions I developed a disqualification method for candidates that helped me to weed the field and determine quickly who the best of the applications where. A former sales manager provided me a test that was intended for real-estate sales.
I took the test myself, gave it to several highly successful sales people which proved its reliability. I quickly discovered it was a pretty good predictor of not only sales success, it also was very good at discovering the qualities desired in other positions as well.(In the latter case I simply disregarded the graph for sales ability) Over time I was able to select a lot of good candidates who went on to be very successful in my sales force but also in my overall team.
The beauty of the test was its ability dramatically lower the time I had to invest in the front end of the hiring process, and the angst in choosing whom to interview. Best of all a good to better score was a great predictor of success for their position. Perhaps the greatest result it produced was someone who was accountable.
Building an Excel file around the test made it easy to score. Unfortunately the test is not State and Government approved. It was a very reliable tool which would have been great to share with clients.
Topgrading has recently added a feature that I would encourage every HR person, manager and leader who hates the front end of the hiring process to consider. It's called the Topgrading SnapShot.
It drastically reduces your time invested in reviewing candidates. Furthermore it increases your professionalism. It sets up a website to match your site where candidates can answer all the questions in the Career History Form. That's a plus for you and your candidates.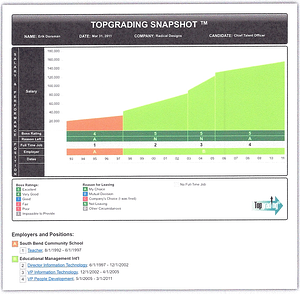 It's simply more professional and easier to enter the information on a web form. Plus it will get you the information you want about the candidates. In fact many candidates see some of the requirements (asking for references with phone numbers as an example) and they disqualify themselves.
Once they've entered their information you are able to see just how their career has shaped up in terms of increasing responsibility, earnings and feedback from their bosses. The latter is their perception of what their boss would give them for a grade. It also gives you an immediate look at why they left their jobs and where there are any gaps in employment. Another feature of the SnapShot is it requires them to fill this information in. One of the challenges with the Career History Form is a lot of candidates find it's just too much to complete and leave a lot of entry points open. There's no excuse for doing so, and again refusal means you weed the field of candidates.
What you see here is a SnapShot example of a hirable candidate. The visual, once you determine what the keys are to look for, makes it easy to sort through a field of candidates in a very short period of time. Plus you have all the detail of the Career History Form available to you if you desire to dig deeper into each candidate.
If you're planning on making any hires in the near future I'd encourage you to try it. They have two free trails available right now.
How committed are you to bringing in "A" players?
I don't find many business owners that are. They pay lip service to it and yet without the commitment at the top Topgrading won't and can't happen. Some owners are already tapped out with too much to do. Others are simply not interested and happy with their present circumstances. They are not committed to any Ideal Brand or Organizational Health. We'll look at this part of the discussion in my next blog.