Are you up for another lesson from my bout with Leukemia? This past weekend was challenging. From Saturday morning when I got up it felt I was in a state of inertia. There are days that I gravitate to that; however they are marked for vacations. Intended inertia of a sort.
It seems to me the universe is teaching me the value of patience with my bout with AML.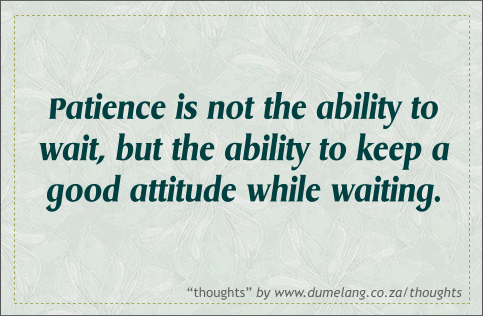 All weekend I felt I was riding a crest and base of a temperature that never quite exceeded a 100 but never got below 98.7. On top of this my appetite is severely suppressed. The taste of food that I eat seems to remain in my mouth far beyond what I would expect. Expecting to eradicate it by chewing a piece of gum or having a diet soda with lemon, either fails or puts a new taste in my mouth that I'd prefer to eliminate. I won't even get into the challenging bleeding of my gums that has occurred due to my blood platelets being low.
The doctor on Monday told me it's the residual effects of the chemotherapy. Even though it's been almost ten days since it was completed, this chemo responds slower which is why my next biopsy isn't until June 11th.
This episode of fever is almost exactly what happened the last time I went through this same chemotherapy. After returning home from nearly 9 weeks in the hospital, in just three days I was back in the hospital, due to a fever.
Anyone who knows me recognizes one of my weaknesses is a lack of patience. Not having patience can be an asset, you strive to get things done quickly. It can also be a serious challenge when you lose perspective, lose your temper and affect people who work around you. There are few things that can repair a relationship when you lose your temper with a co-worker or subordinate.
My message is short today. When it comes to establishing Strategic Discipline in your organization make sure you are patient with its progress. New ideas don't blend in with old ideas quickly. Unless your people immediately see the benefits they will resist change. You might give them a pass if they don't immediately hit their metrics. Setting and achieving targets may be new to many of your staff including your leadership team.
Change can be difficult at first.
I know this feeling magnified when I discovered I had AML. I immediately resisted. In fact I felt as if there was no reason to go on living based on the prognosis my doctor gave me. Why should I bother when my business, my life savings would all be wiped out by this disease and where would that leave my family I asked myself? I was as afraid for them as I was myself.
Fortunately my son reminded me that doing so would be in direct contradiction to how I'd lived my life and what I'd taught my sons! I recalled a quote from Emmet Fox which has helped me through this challenging period. I hope it will help you today and give you more patience, "Bless a thing and it will bless you. Curse it and it will curse you. If you put your condemnation upon anything in life, it will hit back at you and hurt you. If you bless a situation, it has no power to hurt you, and even if it is troublesome for a time, it will gradually fade out, if you sincerely bless it."