Monday after 5 consecutive weeks tied to my little pole friend (IV equipment coaster)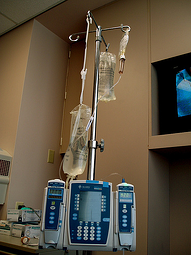 I was free for all of about 24 hours from it. I was ecstatic! Freedom! I could walk down the halls, to my bathroom, get up from eating without fear of being tethered to this anvil and have complete independence of movement. I can't tell you how upset I was when I discovered at around 1 AM yesterday morning that I would be shackled to it again.
Let's suppose the hospital were conducting customer feedback shortly after my discovery? Which form of customer feedback might deliver the best and most immediate response that would help alleviate my frustration and disappointment?
For our Gazelles clients we recommend both Qualitative and Quantitative Customer Feedback. We've had great success with both. Let's review the differences between them.
Qualitative Customer Feedback includes speaking to your customers directly. Getting their input on how they are doing. What are competitors doing? What are your customers seeing in the marketplace? How do your customers feel they are being treated? Where can improvements be made? How truly satisfied are they?
One of my clients is facing a challenge right now with their customer membership program. While their membership is growing they are losing close to 20% each year. With that type of attrition it will be difficult to continue their current growth pattern indefinitely. A qualitative customer feedback survey would serve to discover important customer patterns and information on why they are leaving.
For Qualitative Customer Feedback we recommend doing the following Gazelles Four Customer Survey Questions, which include:
How are you doing?

What's going on in your industry/neighborhood?

What do hear about our competitors?

How are we doing?
There's an approach and psychology to this that's important to understand, yet the impact is to discover exactly how your customer's feel about you. Frequent innovations come from sincere customer interest and the right questions. The best businesses stay in touch with their customers. The people on your front lines understand your customers best. When they continuously gather what's impactful, it stimulates immediate and lasting improvements enabling you to stay ahead of your competition.
Did you know IBM has its top 200 managers talk to 5 customers and employees every week and review the information every Friday?
It's critical that the people at the top of the organizational chart speak to customers too. We recommend executive team members speak to a minimum of one customer a week to answer these questions and report their findings back at the weekly meetings. Everyone needs to pay attention to the patterns that emerge in this customer feedback portion of the weekly meetings.
Let's look at Quantitative Customer Feedback. Gazelles recommends for Quantitative customer feedback to follow Fred Reichheld's The Ultimate Question most recently updated in The Ultimate Question 2.0. In The Ultimate Question – Customer Advocacy from the fall 2008 Las Vegas Growth Summit we discussed some of the enormous benefits to gaining high levels of customer satisfaction. My clients have seen a dramatic impact in their bottom line when their NPS score increased. They've seen a direct correlation to increased location and company profits with their NPS score improvement.
The Ultimate question is two simple questions that provide your business with a measureable score on the number of customers who are advocates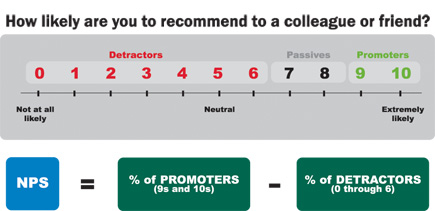 (People who will refer additional customers to your business now or in the future.) You can go to this same blog to determine how the score is achieved or to How to Calculate Your Score.
The value of the NPS score increases as you recognize that your score can be compared to industry averages to make you and your staff aware of how you measure up to the best at customer satisfaction. Several of my customers measure extremely well with the best in the world's customer satisfaction experts.
Let's revisit my situation in the hospital. Which form (Qualitative or Quantitative) of customer feedback would be best to utilize to achieve the best outcome with my complaint? Is there a best method or would both methods work? Please give me your feedback for discussion next blog.
By the way I'm happy to report that I'm free of my little friend (IV unit). They're planning a biopsy again for today.