Last night my sleep pattern was severely disrupted. About 10:30 PM the nurses discovered I was running a slight fever. Immediately they jumped into action. On the Leukemia ward of the hospital anyone suffering from a fever is handled seriously.
The nurses took several blood samples and got me an IV started with antibiotics.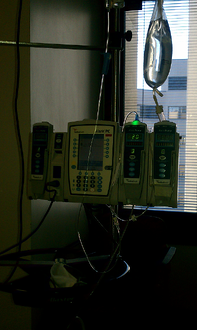 Throughout the night they repeatedly checked and monitored my vitals, particularly my temperature. Fortunately by morning the actions they'd taken had eliminated my fever. Unfortunately after several days of freedom from my IV monster it appears I may be stuck with him for again a while.
I must admit I was disappointed to have a fever. Yet I was particularly impressed with the speed and efficiency that my nurse (Kim) and nursing assistant (Barb) sprang into action.
How does this relate to your business?
Are you measuring your business and your people's performance? What metrics do you measure consistently every day to determine how well your staff is doing? Do you have daily huddles with expectations for your staff to deliver a standard metric that measures their specific performance, one that they can feel good about that contributes to the growth and well-being of your business?
My abnormal temperature prompted immediate response. In this case it was a leading indicator of something possibly being wrong with my condition.
What leading indicators do you have in place to warn you of possible challenges ahead? Do you have a set of vitals that you monitor daily, weekly, monthly that warn you when you need to spring into action.
Your company and every one of your people should have dashboards to monitor their performance. Accountability starts with these daily types of metrics. Isn't it time you considered developing these for every position of your business? Can you really run your business at the performance level you'd want to achieve without this type of responsible expectations?
This afternoon I'm scheduled for my second biopsy to discover how well the chemotherapy did at eliminating the cancer cells.
A prognosis of less than 5% triggers a new set of events including a likely progression to bone marrow transplant. Over 5% and I'll likely be headed for another round of chemotherapy. I'm cautiously optimistic. I'll have an update on the outcome sometime on Wednesday. Thanks again for all your encouragement, prayers and support!